The United States is "deeply concerned" at the plight of black African migrants and refugees in Libya, citing reports of racism, wrongful arrest and violence, a State Department official said Monday.
"Nobody should be detained or harassed due to the color of their skin or their nationality, and measures must be taken to protect individuals from acts of violence," said spokeswoman Victoria Nuland.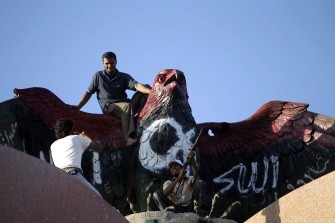 Libyan rebels take souvenir pictures on top of a broze falcon erected on the roof of one of ousted Libyan Leader Moammer Kadhafi Bab al-Aziziyah buildings in the capital Tripoli on September 12, 2011.
She cited "reports of arbitrary detention and abuse of sub-Saharan African migrants and refugees."
Nuland said the US was continuing to work with other nations to ensure safe passage out of Libya for foreign nationals, including sub-Saharan African migrants, who wish to leave for their own safety.
Amnesty International said on August 31 that people suspected of having fought for former strongman Moamer Kadhafi, in particular black Libyans and sub-Saharan Africans, were at high risk of abuse by anti-Kadhafi forces.
Libya's fledgling new rulers, the National Transitional Council (NTC), have urged their supporters "to treat captives with dignity and to avoid revenge attacks."