The United States is considering providing significant food aid to Democratic People's Republic of Korea (DPRK) in another sign of warming ties between the two Cold War foes, a Republic of Korea (RoK)'s official said Tuesday.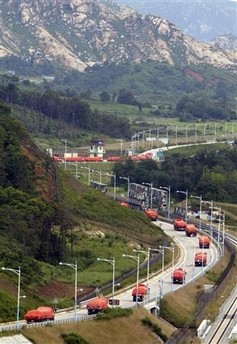 RoK's trucks carrying food to DPRK in July (AFP Photo)
Relations improved after the North agreed to disable its nuclear facilities -- with the help of US experts -- and to declare all its programmes by year-end.
"The US State Department announced in late August a significant food aid package for flood victims in North Korea. The aid will now be more than a flood relief package," a Seoul presidential spokesman told AFP.
The spokesman did not specify how much the US would give or when it would be delivered, saying both sides would meet soon to discuss the aid. The US embassy could not immediately confirm the report.
DPRK was hit by a famine in the 1990s that killed hundreds of thousands, and the country still suffers acute food shortages. The US has previously provided aid mostly via the UN's World Food Programme or the US Agency for International Development.
Chosun Ilbo newspaper said Washington was considering direct government-to-government humanitarian aid because the six-party talks on ending the North's nuclear ambitions were making progress.
Pyongyang has positively responded to a US plan to send monitors to ensure the food reaches the neediest, the newspaper said, adding that Washington was considering other aid such as generators for hospitals.
RoK has been providing its impoverished and intermittently famine-stricken neighbour with food aid since the mid-1990s. It suspended shipments after the North's missile tests in July 2006 but resumed in June after Pyongyang took steps towards nuclear disarmament.
About 400,000 tons is being delivered in the current year.
The UN's World Food Programme says it closely monitors its operations in the North. It estimates that up to four million people are chronically short of food in addition to the 1.9 million it tries to feed on a regular basis.