US consumer confidence slumped in October amid worries about jobs in the recession-wracked economy, boding ill for the important holiday shopping season, the Conference Board said Tuesday.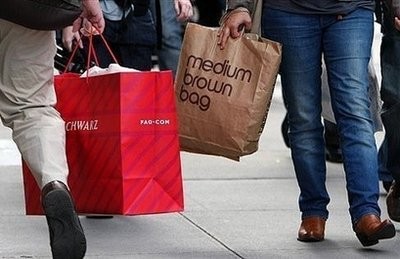 Shoppers on Fifth Avenue in New York City. US consumer confidence tanked in October amid growing worries about jobs in the recession-wracked economy, boding ill for the key holiday shopping season, the Conference Board said Tuesday. (AFP Photo)
The private research firm said its consumer confidence index declined for the second month in a row, to 47.7 in October from a revised 53.4 in September. The September reading initially was reported at 53.1.
The decline in the October index was much steeper than expected by Wall Street, with most analysts expecting a 53.5 reading.
The downbeat start of the fourth quarter raised a red flag over consumer spending, which drives about two-thirds of activity in the world's largest economy and is particularly crucial for retailers' year-end holiday sales.
Lynn Franco, research director of the Conference Board, said that labor market condition played "a major role in this grimmer assessment."
"Consumers also remain quite pessimistic about their future earnings, a sentiment that will likely constrain spending during the holidays."
Ian Shepherdson, chief US economist at High Frequency Economics, called the decline in the outlook "bad news" because it is a near-term leading indicator of consumers' spending.
The dismal confidence report came ahead of the government's highly anticipated first estimate of economic activity in the third quarter, due Thursday.
The official data is expected to show US gross domestic product (GDP), or output of goods and services, grew between 3.0 and 4.0 percent in the July-September period after four negative quarters in a row.
A separate private report on home prices in major US cities Tuesday showed the housing slump at the center of the financial crisis was stabilizing. The Standard & Poor's/Case-Shiller index in August had the smallest year-over-year decline in 19 months and rose for the third month in a row.
Most analysts expect the GDP expansion to stall in the fourth quarter and unemployment, a lagging indicator in economic recovery, to hit double digits before slowly recovering.
"The October decline in consumer confidence reinforces our view that the consumer sector will not be much of a driver of the recovery beyond the third quarter, when auto sales spiked in response to the temporary 'cash for clunkers' (automobile) program," said Brian Bethune of IHS Global Insight.
The October consumer confidence index, based on a survey of 5,000 households, showed that consumers had turned markedly more pessimistic about current conditions, driving the "present situation" sub-index to its lowest reading in 26 years -- 20.7 -- from 23.0 in September.
Those claiming business conditions are "bad" rose to 47.1 percent from 46.3 percent, while those viewing conditions as "good" dropped to 7.7 percent from 8.6 percent.
The survey found consumers were more worried about the ailing job market, where the unemployment rate hit a new 26-year high of 9.8 percent in September.
Those claiming jobs are "hard to get" vaulted to 49.6 percent from 47.0 percent, while those saying they were "plentiful" fell to 3.4 percent from 3.6 percent.
The outlook over the next six months also deteriorated sharply, with expectations index sinking to 65.7 from 73.7.
Those expecting more jobs in the months ahead slid to 16.3 percent from 18.0 percent, while those expecting few jobs jumped to 26.6 percent from 22.9 percent.
Those expecting an increase in their incomes fell to 10.3 percent from 11.2 percent.
"The further deterioration in labor market conditions is connected with scaled-back plans for seasonal hiring by retailers, accelerated layoffs by state and local governments, and high rates of small business closures," Bethune said.