BEIJING, Jan 12, 2011 (AFP) - US Defense Secretary Robert Gates on Wednesday toured China's nuclear command centre to end what he called a "very successful" visit -- one upstaged by a bold display of Beijing's advanced weaponry.
Gates got a rare look at the Second Artillery Corps headquarters outside Beijing, which oversees nuclear and missile forces -- a stop meant to underscore China's readiness to recast uneasy military ties.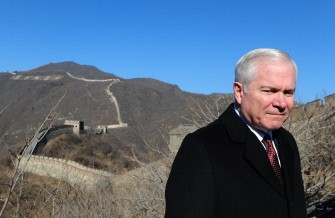 US Secretary of Defense Robert Gates visits the Great Wall at Mutianyu on the outskirts of Beiijng on January 12, 2011. AFP
The Pentagon chief said he had "very candid conversations" during his tour of the facility in Qinghe and spoke to Chinese officers about nuclear strategy.
Chinese defence ministry official Guan Youfei was cited by state media as saying the tour had been organised at Gates' request, and was part of efforts to build "mutual trust and eliminate misunderstandings and miscalculations".
Gates' four-day trip to China was designed to promote a more cooperative relationship with the country's top brass before President Hu Jintao visits Washington next week.
But instead the test flight of a new Chinese stealth fighter stole the show.
As Gates met Hu and other top officials on Tuesday, Chinese state media published photos that were said to show the debut flight of the J-20, the country's first radar-evading combat aircraft.
The timing of the flight appeared to be a snub to Washington, fuelling the sense of a military rivalry despite positive statements from both governments aimed at defusing tensions over US arms sales to Taiwan and maritime disputes.
The incident illustrated the Asian juggernaut's confidence and also raised questions about the role of its military, as a senior US defence official said Hu and other top civilians apparently were unaware of the test flight.
Gates in the past has described the Chinese military as taking a harder line towards Washington than the country's civilian leaders, suggesting the generals have undermined efforts to improve defence ties.
But on Wednesday, he played down any tension over the test flight, or any possibility of a rift between the People's Liberation Army and the Communist leadership.
"The civilian leadership seemed surprised by the test and assured me that it had nothing to do with my visit," Gates told reporters as he visited the Great Wall following the command centre tour.
"What came across to me was that both the civilian and military leadership seem determined to carry this relationship further and to build upon it," he said.
"Are there those who have issues with it? Possibly. But I certainly didn't meet them on my trip."
Guan, the Chinese defence ministry official, insisted the modernisation of China's military hardware was "not aimed at any other country or any specific target".
The Pentagon chief meanwhile characterised his talks in Beijing as part of a "step-by-step process" to build stronger defence ties.
Gates is the second Pentagon chief to tour the Second Artillery Corps headquarters. His predecessor, Donald Rumsfeld, visited the site in 2005. The Chinese have rebuffed US requests to tour some other sensitive command posts.
General Xu Caihou, vice chairman of the military commission, made an equivalent visit to US Strategic Command in 2009 as part of a tour of American bases.
Gates said he had invited General Jing Zhiyuan, commander of the Second Artillery Corps, to visit US Strategic Command and the general accepted.
Gates, who used to travel to Beijing out of the public eye when he served as a top CIA officer, described seeing the Mutianyu section of the Great Wall as a "a great, fitting end to what I consider a very successful visit."
Gates was headed to Tokyo on Wednesday, and then Seoul on Friday, for meetings focused on North Korea.