Ballooning US demand and the handgun's surge in popularity drove up the global trade in small arms by more than a quarter between 2000 and 2006, a UN-backed study showed Thursday.
Those weapons in the hands of civilians, security forces or armed groups were behind the deaths of 450,000 people, said the authors of the Small Arms Survey 2009.
Pistols, revolvers, rifles and heavy machine guns accounted for 60 percent of deaths through intentional violence of any kind, including the use of bombs, knives or bare hands, whether in conflicts or crime, the experts said.
By 2006, the legal market for small arms and light weapons was worth 2.9 billion dollars (2.1 billion euros), a leap of more than 650 million dollars, said the survey, based on customs data collected by the UN from 53 countries.
Demand from the United States alone was responsible for 48 percent of the worldwide increase in imports, it found.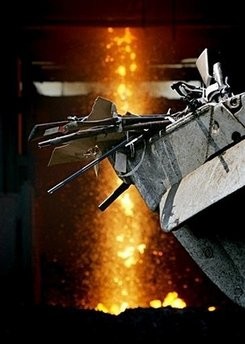 A tractor carries illegal guns and other weapons confiscated from criminals to a furnace to be melted down and converted into steel rebar, in California in 2008
The real figure for the total global market was most likely to be above four billion dollars, once flawed controls and a lack of transparency in some countries were taken into account, according to the survey.
"Current data shows the global trade in small arms and light weapons is robust and even expanding, and that handguns are driving it," said survey programme director Keith Krause.
"We don't know whether these weapons are destined for civilians, police or military forces. But it is striking that handguns have outpaced all other small arms and light weapons over the period."
The United States was by far the biggest importer of pistols and revolvers, accounting for 54 percent or 173 million dollars of imports over the six year period.
Yet, during that period the overall trade in military small arms and light weapons declared to the United Nations fell from 528 million to 375 million dollars.
The US was only the sixth largest military importer even though standard issue pistols and revolvers for its armed forces come predominantly from foreign gun makers.
The top exporters in 2006 for small arms, light weapons, parts and ammunition were the United States, Germany, Brazil, Austria and Belgium.
The survey argued that there was considerable scope to destroy 200 million small arms currently in circulation in the world.
"Roughly 40 percent of state arsenals -- some 76 million arms -- appear to be surplus to requirements and highly suitable for destruction," the report said.
"Collection and destruction seems readily feasible for perhaps 20 percent of all civilian firearms."
Christiane Agboton Johnson, assistant director of the UN Institute for Disarmament Research (UNIDIR) told journalists: "Reducing the availability of weapons helps to curtail criminal activity, from drug trafficking and armed holdups, to organised prostitution."
But it added a note of caution based on recent disarmament campaigns for firearms in Afghanistan, Brazil, Colombia, the Solomon Islands or South Africa, warning that they were not a universal panacea to armed violence and instability.
The report also criticised shortcomings in transparency in the small arms trade in Iran, North Korea, South Africa, Russia, Israel and Taiwan.
The annual survey by researchers at Geneva's Graduate Institute is backed by UN agencies and several European countries.