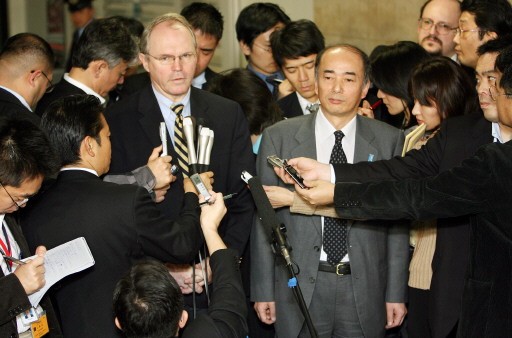 Christopher Hill (L), US chief negotiator speaks to members of the media at the Japanese Foreign Ministry in Tokyo, Dec. 16, 2006 (AFP Photo)
Top US envoy Christopher Hill called on Democratic People's Republic of Korea (DPRK) Sunday to "get serious" about ending its nuclear weapons programs, as six party talks on the issue were set to resume after a year's delay.
Hill said he was prepared to meet one-on-one with his DPRK counterpart Kim Kye-Gwan, who arrived in Beijing Saturday voicing pessimism over the talks and accusing the United States of a "hostile policy."
"What the DPRK needs to do is to get serious with denuclearization," Hill said upon arriving in Beijing.
"If they get serious with denuclearization, a lot of good things can happen ... if they do not get serious about denuclearization such things will go away."
A series of bilateral meetings between the six parties -- hosts China, the two Koreas, the United States, Russia and Japan -- are to be held Sunday ahead of a welcoming banquet, Chinese officials said.
Hill said he hoped Kim would be able to discuss the dismantling of North Korea's nuclear programs as agreed in a September 2005 deal brokered in the six party talks process.
"I hope they are coming here with a serious intention of moving ahead and implementing the September agreement," he said.
The September 2005 deal calls for Pyongyang to give up its nuclear weapons in return for aid and security guarantees.
But DPRK walked out of the talks a few weeks after the agreement was struck to protest unilateral US financial sanctions on a Macau-based bank accused of laundering and counterfeiting money on behalf of the impoverished regime.
Pyongyang then fundamentally changed the dynamics of the negotiation process with an October 9 nuclear test, which was condemned worldwide and resulted in UN Security Council sanctions on DPRK.
On Saturday after arriving in Beijing, Kim said the talks would fail unless Washington ended its "hostile policy" -- which the North has insisted is the reason behind its nuclear program.
"The nuclear issues cannot be resolved until the United States takes a co-existence policy," Kim said. "I'm not optimistic about prospects for the six-party talks."
North Korea has also long-demanded that the US financial sanctions be lifted.