President Barack Obama's administration dropped the "enemy combatant" designation for terror suspects and vowed to draw on international law for its detention policy at Guantanamo Bay prison.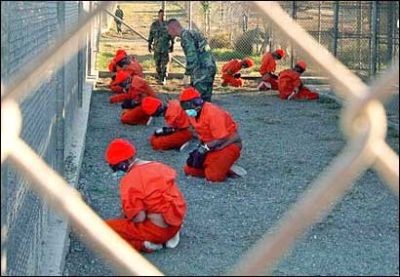 Detainees at the naval base of Guantanamo in southern Cuba
In a court filing with a district court in Washington, the US Justice Department submitted a new definition for the government's authority to hold detainees at the US naval base in southern Cuba.
"It does not employ the phrase 'enemy combatant,'" the Justice Department stressed in a statement.
Former president George W. Bush had argued that his status as commander-in-chief allowed him to indefinitely hold "enemy combatants" without charge.
But under the new policy, suspects would be held in accordance with the international laws of war. The Justice Department said only individuals who "substantially supported" Al-Qaeda, Taliban or "associated forces" would be considered detainable.
Warning that the facts and circumstances "justifying detention" would vary for each case, the Justice Department said "the contours of the 'substantial support' and 'associated forces' bases of detention will need to be further developed in their application to concrete facts in individual cases."
The definition immediately drew fire from rights groups and conservatives alike.
"The Obama administration's take on detainees is essentially the Bush standard with a new name," said Joanne Mariner, director of the terrorism and counterterrorism program at Human Rights Watch.
Representative Pete Hoekstra, the top Republican on the House Permanent Select Intelligence Committee, criticized the Obama administration for "taking major action without knowing its consequences."
"The administration has no plan for where to place the terrorists, and now has no idea about the implications of its new theory that apparently gives more weight to international views than our own national security priorities," he added.
But Attorney General Eric Holder said the changes introduced by the Obama administration would "make our nation stronger."
"As we work toward developing a new policy to govern detainees, it is essential that we operate in a manner that strengthens our national security, is consistent with our values, and is governed by law," he added.
"The change we've made today meets each of those standards."
In his first week in office, Obama ordered an interagency review of Guantanamo as part of his plan to close the facility, which still holds more than 240 prisoners, by early 2010.
The outcome of the review "may lead to further refinements of the government's position," the Justice Department warned.
In the filing, government lawyers backed Bush's stance to hold detainees even if they are not captured on the battlefield, which American Civil Liberties Union (ACLU) executive director Anthony Romero called "deeply troubling."
They also rejected that only those individuals who participated directly in attacks should be detained, an argument put forth in detainees' lawsuits.
"Law of war principles do not limit the United States' detention authority to this limited category of individuals. A contrary conclusion would improperly reward an enemy that violates the laws of war by operating as a loose network and camouflaging its forces as civilians," the filing read.
Romero called the new language "a half-step in the right direction" that maintains "an overly broad interpretation" of detention policy.
The Center for Constitutional Rights, which represents some Guantanamo detainees, said "the government continues to confuse the right to use military force with the right to detain terror suspects indefinitely."
The remote Guantanamo prison camp was opened in the wake of the September 11, 2001 attacks on the United States and became synonymous with Bush's "war on terror" policies.
Assistant Secretary of State for European and Eurasian affairs Dan Fried was named on Thursday as an envoy to work with other countries to accept Guantanamo detainees.
The 27 European Union countries are struggling to define a common position on how best to help, as they await an official request to accept former inmates.
A high-level EU delegation is set to travel to Washington on March 16 to 17 to discuss the camp and determine how US authorities decided that around 60 of the prisoners could be released but could not be hosted by the United States.