US Middle East envoy George Mitchell held talks with Syrian President Bashar al-Assad on Sunday as Washington stepped up its push for peace with Defence Secretary Robert Gates also due in the region.
Mitchell arrived overnight for his second visit to Damascus since mid-June on a trip that was to take him on to Israel and the Palestinian territories later on Sunday.
Syria's official SANA news agency quoted the US envoy as describing his talks as "important and positive".
He said that US President Barack Obama was determined to reach a comprehensive peace between Israel and all its Arab neighbours, the news agency reported.
Obama has moved to re-engage Damascus -- a key regional player -- as part of a bid to breathe new life into the faltering Middle East peace process.
Syria and Israel held four rounds of preliminary negotiations through Turkish mediators last year but Syria broke them off in December amid Israel's deadly offensive against the Gaza Strip.
The new Israeli government of Prime Minister Benjamin Netanyahu has since rejected Syria's minimum condition for a peace treaty -- the return of the strategic Golan Heights which Israel seized in the 1967 Middle East war and annexed in 1981 in a move never recognised by the international community.
The last round of direct peace talks between the two sides broke down in 2000 when Israel baulked at Syrian demands for the return of the whole territory right down to the shores of the Sea of Galilee, the Jewish state's main water source.
Relations between the United States and Syria -- which were strained under the administration of US president George W. Bush -- have begun to improve since Obama became president.
Washington announced on June 24 its decision to send an ambassador back to Damascus to replace the envoy who was recalled in 2005 after the assassination in Beirut of former Lebanese prime minister Rafiq Hariri.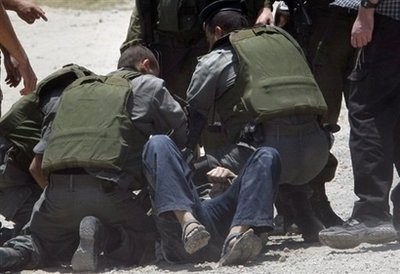 Israeli forces clash with Israeli settlers who were trying to block Palestinian motorists near the Hawara checkpoint
The killing was widely blamed on Syria although Damascus has steadfastly denied any involvement.
State Department spokesman Philip Crowley said on Thursday that Washington was "also trying to develop... bilateral issues that we have with the Syrians".
Washington has accused Damascus of supporting "terrorist" groups, seeking to destabilise Lebanon and allowing transit through Syria of weapons and fighters headed to Iraq.
After his talks with Syrian leaders, Mitchell was due to fly on to Israel later on Sunday.
The US defence secretary was also due in the Jewish state and National Security Advisor James Jones is to travel to the region later this week.
Gates is due to meet his Israeli counterpart Ehud Barak on Monday, before holding talks with Netanyahu, US defence officials said.
The flurry of diplomatic activity comes amid mounting frictions between the close allies over Washington's demand for a halt to Jewish settlement activity in the occupied West Bank, including annexed Arab east Jerusalem.
Speaking before the weekly cabinet meeting in Jerusalem on Sunday, the Israeli prime minister said that the US envoys' visits reflected the "strong and broad relationship between Israel and the United States."
But Netanyahu acknowledged there were also differences.
"Naturally even within this friendly relationship there isn't total agreement on everything and on several issues we are trying to reach that understanding in order for us to be able to promote our common interests of peace, security and stability," he said.
The spiritual head of the ultra-Orthodox Shas party, which forms part of the ruling coalition, became the latest Israeli leader to hit out at US demands that the Jewish state halt settlement activity.
"What right do they have to tell us 'here you can build, here you can't build,'" Rabbi Ovadia Yosef said in his weekly sermon.