US Middle East envoy George Mitchell failed on Wednesday to wrest a compromise on settlements from Israel's prime minister, but the two men agreed to meet again on Friday for a third attempt in a week.
"The meeting is over ... They agreed to meet again on Friday," a spokesman for Prime Minister Benjamin Netanyahu's office told AFP after the meeting in Jerusalem.
Mitchell will also meet for a second time with Palestinian president Mahmud Abbas on Friday, the latter's office announced.
The former US senator later travelled to Lebanon and met President Michel Sleiman as part of his latest tour of the region.
Mitchell huddled with Netanyahu for several hours, a day after shuttling between the premier and Abbas, urging both sides to show "responsibility for peace" and take steps towards restarting their stalled negotiations.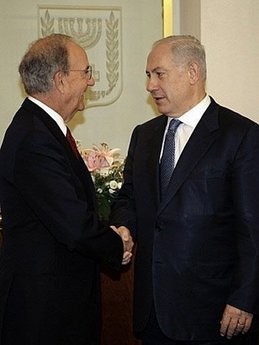 Israeli Prime Minister Benjamin Netanyahu (R) greets US Middle East special envoy George Mitchell before a meeting in Jerusalem.
He aims for some kind of Israeli moratorium on settlement construction that would be acceptable to the Palestinians and enable the resumption of peace talks that were suspended in late December amid the Gaza war.
"We hope to bring this phase of our efforts to a positive conclusion in the coming weeks," he said.
Mitchell has been seeking a compromise that also would pave the way for a three-way meeting between Netanyahu, Abbas and US President Barack Obama at the UN General Assembly later this month.
But he has faced an uphill task.
Netanyahu himself said it was unclear if such an encounter would go ahead. "The three-way meeting has not been set yet. But I'll go anyway and give my speech" at the General Assembly, he told reporters.
The hawkish premier has repeatedly ruled out a complete freeze to Israel's settlement activity in the occupied West Bank, including annexed east Jerusalem -- a move on which the Palestinian insist in order to resume peace talks.
On Monday, Netanyahu repeated he had no intention of implementing a complete freeze, saying any halt would be temporary, would not extend to east Jerusalem, and would exclude some 2,500 units already under construction.
Mitchell said before his latest talks with Netanyahu that the United States shared a "sense of urgency" for peace talks to resume before the end of September.
Standing in the way are Jewish settlements on occupied Palestinian land, home to half a million Israelis. The settlements are viewed as illegal by the international community and represent a key obstacle to reaching a peace deal.
Obama's administration has been working towards a comprehensive peace package that would see Israel strike deals with the Palestinians, Syria and Lebanon, and Arab states normalise relations with the Jewish state.
In Lebanon, ahead of stops in Egypt and Jordan on Thursday, Mitchell sought to reassure Sleiman that US efforts toward peace would not come at the expense of Beirut, the president's office said.
Many in Lebanon are concerned that a peace deal could prompt many Palestinian refugees to stay permanently, altering the country's delicate sectarian balance.
Israelis and Palestinians resumed negotiations in November 2007 after a nearly seven-year hiatus. But the talks made little visible progress and were suspended in late December after Israel launched its war in Hamas-run Gaza.
The Israeli army said on Wednesday it has started removing 100 of its roadblocks in the West Bank as part of efforts to improve the economic situation in the Palestinian territory.
Recent UN figures put at more than 600 the number of such obstacles that restrict the movement of Palestinian people and goods in the West Bank.