A top US envoy met with ousted President Manuel Zelaya here Tuesday in a bid to bury the political crisis set off by a coup more than six months ago.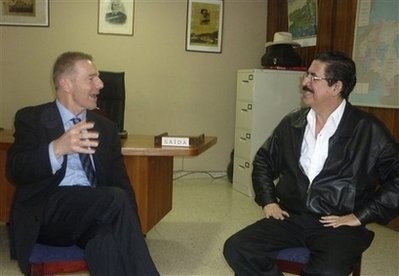 Craig A. Kelly, left, US Deputy Assistant Secretary of Western Hemisphere Affairs, speaks with Honduras' ousted President Manuel Zelaya in Brazil's embassy in Tegucigalpa, Tuesday, Jan. 5, 2010.
Hondurans voted in November for a new president, Porfirio Lobo, to take over at the end of January, but Zelaya remains holed up in the Brazilian embassy under threat of arrest, while de facto leader Roberto Micheletti sits in the presidential palace.
US envoy Craig Kelly met with Zelaya inside the Brazilian mission but made no comments to reporters waiting outside when he left, witnesses said.
The deposed president said the United States still does not recognize the Micheletti regime and that "there is no law and order" in Honduras after the coup.
"We need to find a peaceful, political solution to the crisis and Micheletti's resignation is a necessary step in that direction," he added from inside the embassy.
Kelly is expected to meet Wednesday with Micheletti and Lobo.
Zelaya, a cowboy-hatted rancher who initially drew support from across the globe after his June 28 ouster, has remained at the mission since secretly returning to the country more than three months ago. He now faces an uncertain future.
He has said he will stay there until January 27 at the latest, when Lobo is due to take over.
Kelly was to discuss a collapsed US-backed crisis deal -- which includes a national unity government and a truth commission -- during his visit, US State Department spokesman PJ Crowley said in Washington.
The United States, a historic economic and military partner to Honduras, supported November's electoral process, while many in Latin America rejected the vote because Zelaya was not restored to office beforehand.
"The real question is, can that government be a vehicle through which you begin a healing process?" Crowley said, referring to Lobo's administration.
"We do have some decisions to make in the future about the future nature of our relationship."
The military, backed by the courts, Congress and business leaders, ousted Zelaya during a dispute over his plans to change the constitution, which critics saw as a bid to extend his single four-year term.
Lobo, a conservative who backed the coup, won the November 29 elections, in which less than half of 4.6 million eligible voters turned out to cast ballots.