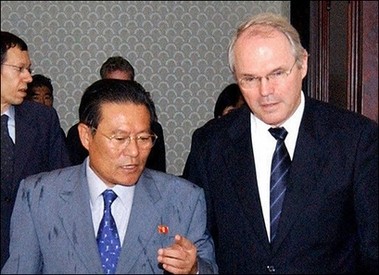 US chief negotiator for six-party talks Christopher Hill(R) is greeted by Ri Kun, DPRK's Foreign Ministry Director for the North American bureau, upon his arrival at the Pyongyang Airport (AFP Photo)
US nuclear envoy Christopher Hill said Friday he had had good discussions with senior Democratic People's Republic of Korea (DPRK) officials on ways to push forward disarmament talks during a rare visit to the communist nation.
Hill said he spoke with Foreign Minister, Pak Ui-Chun, and Kim Kye-Gwan, who is its chief envoy to six-party negotiations aimed at ending the state's nuclear programme in return for aid and diplomatic gains.
"It's (been) a very good discussion and on the way forward and the need to move forward," he said in remarks carried by China's Xinhua news agency.
"I think we're talking about trying to have a six-party meeting as soon as possible," Hill added in Pyongyang before heading to Seoul.
His visit came ahead of the scheduled arrival next week of inspectors from the UN nuclear watchdog -- the first time they will have been back since being kicked out in late 2002 -- to discuss how to close down the North's Yongbyon reactor.
Hill said the United States was looking for a "comprehensive solution" to both the shutting down of the North's nuclear facilities and normalisation of diplomatic ties between the two nations.
He did not specify a date to resume the six-nation forum, which groups the two Koreas, China, Russia, Japan, RoK and the United States
The February 13 deal was hammered out following a surge in tensions after the North carried out its first nuclear weapons test last October.
Progress on implementing the agreement was then slowed by a hitch over the return of DPRK's funds frozen in a Macau bank, but the assets have now been unblocked.
The remittance via Russia will be completed Friday, a Russian diplomat was quoted as saying by Moscow's Itar-Tass news agency.
Pending confirmation of the transfer, however, a DPRK's official in Vienna, where the International Atomic Energy Agency is based, said Pyongyang had not yet given the final go-ahead for the UN inspectors to come back.
Hill's DPRK visit was the first by a top US official since October 2002, when predecessor James Kelly confronted the North with alleged evidence of a secret nuclear programme using highly enriched uranium.
That accusation, and the North's denial, triggered off the latest nuclear crisis and the collapse of a 1994 bilateral denuclearisation accord.
In another development, RoK said it would announce a timetable next week for the shipment of 400,000 tons of rice aid to the impoverished North.
The South suspended its regular rice aid after Pyongyang conducted missile tests last July which were followed by October's nuclear test, and has linked aid resumption to progress on denuclearisation.