US Ambassador to Honduras Hugo Llorens visited deposed President Manuel Zelaya on Saturday as part of a bid to find a solution to the political crisis gripping the impoverished Central American nation, an official said.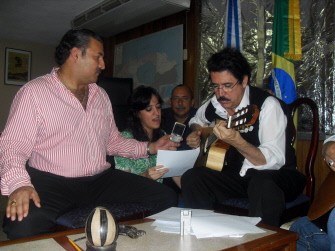 Honduran deposed president Manuel Zelaya (R) plays the guitar at the Brazilian Embassy in Tegucigalpa on December 12, 2009. (AFP Photo)
Zelaya has been holed up at the Brazilian embassy in Tegucigalpa, where he returned in September after a brief exile following his June 28 military-backed ouster.
"Hugo Llorens came to the embassy and told Zelaya he would travel to the United States for Christmas. Steps to resolve the crisis will follow," Zelaya advisor Rasel Tome told AFP.
"Efforts are ongoing at the Central American level and in the Dominican Republican for a dialogue in a neutral environment."
Honduras held elections last month won by Porfirio Lobo, who is slated to replace Zelaya and the interim regime in January, when the deposed leader's term officially ends.
Washington backed an agreement in the Honduran crisis that called for Zelaya to be reinstated before the November 29 vote. The pact was not honored, but US support for Zelaya has cooled, with the United States now insisting his reinstatement is an internal matter.
De facto leader Roberto Micheletti said Zelaya could only leave the country on condition he give up his claims to the presidency for good, thus thwarting an attempt at dialogue last week between the deposed leader and Lobo set to take place in Santo Domingo.
Lobo has called for an "amnesty" of all those involved in the coup, and voiced hope that Micheletti would step down before he is sworn into office next month.