The most senior US official to visit Myanmar for nearly a decade and a half met the military-led nation's prime minister Wednesday as Washington seeks to improve ties with the Southeast Asian country.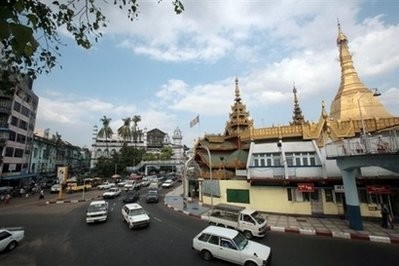 View of downtown Yangon's main landmark, the Sule Pagoda (L), a 2000-year-old Buddhist temple. (AFP Photo)
Assistant Secretary of State for East Asian and Pacific Affairs Kurt Campbell, along with his deputy Scot Marciel, were also set to meet detained Myanmar opposite leader Aung San Suu Kyi later in the day.
The US duo arrived in Myanmar's remote administrative capital Naypyidaw on Tuesday on a two-day mission aimed at pushing a new policy of engagement by the administration of President Barack Obama.
"They are meeting now," a Myanmar official told AFP on condition of anonymity after the talks with Prime Minister Thein Sein in Naypyidaw began early Wednesday.
Myanmar officials said the US delegation was not expected to meet Senior General Than Shwe, the country's leader.
Campbell is the highest ranking US official to travel to Myanmar -- formerly known as Burma -- since Madeleine Albright went as US ambassador to the United Nations in 1995 during Bill Clinton's presidency.
The Obama administration recently shifted US policy because its longstanding approach of isolating Myanmar had failed to bear fruit. But Washington has said it will not ease sanctions without conditions.
The visit by Campbell and Marciel is a follow-up to discussions in New York in September between US and Myanmar officials, the highest-level US contact with Myanmar in nearly a decade.
Campbell and Marciel at the time also raised US concerns about Myanmar's possible military links with nuclear-armed Democractic People's Republic of Korea.
US State Department spokesman Ian Kelly said the current visit was a "fact-finding" mission, adding that it was the "first step, or I guess I should say the second step in the beginning of a dialogue with Burma."
Asked what Campbell discussed on Tuesday in talks with the information minister and local organisations, Kelly said: "They laid out the way we see this relationship going forward, how we should structure this dialogue, but they were mainly in a listening mode."
Campbell and Marciel were due to fly to the former capital Yangon later Wednesday to meet Suu Kyi and members of her National League for Democracy party, a US embassy spokesman said.
NLD spokesman Nyan Win has said the visit is the "start of direct engagement between the US and Myanmar government" but added that the party was not expecting any immediate "big change".
Suu Kyi will be discussed when Obama meets Southeast Asian leaders at a regional summit in Singapore in mid-November, Singaporean Prime Minister Lee Hsien Loong said Tuesday, adding that Mr. Thein Sein was expected to attend.