The United States has offered duty-free access to travel goods made in Cambodia, a major expansion of trade preferences for the country.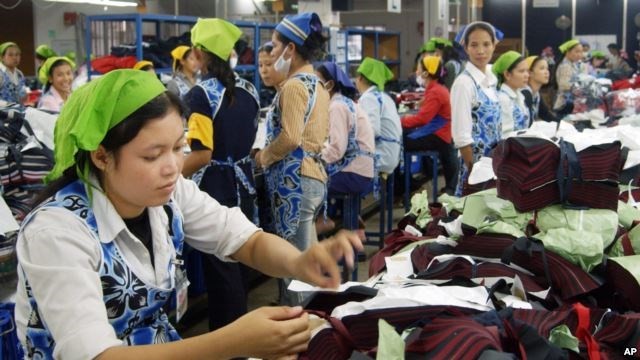 Cambodians work inside a factory in Phnom Penh. (Photo:voanews.com)
According to the US Embassy in Phnom Penh, under the new US Generalised System of Preferences (GSP), travel goods such as luggage, backpacks, handbags and wallets produced in Cambodia will be able to be shipped to the US duty free.
U.S. Ambassador William Heidt told a joint press conference with Cambodian Minister of Commerce Pan Sorasak that the duty-free offer will open up a new market for Cambodian exporters while creating thousands of jobs for Cambodians.
He encouraged Cambodian producers to take the advantage to diversify the country's economic base, spur economic growth and alleviate poverty.
Pan Sorasak said that the offer will be a good opportunity for Cambodia to further the development of the garment and textile industry.
President of the Garment Manufacturers Association of Cambodia Van Sou Ieng said that the country is currently home to 15 factories producing travel goods and exports 50 million USD worth of such products to the US market every year