A team of US experts left Tuesday for Democratic People's Republic of Korea (DPRK) to disable the state's nuclear weapons arsenal in a crucial phase of a six-nation disarmament pact.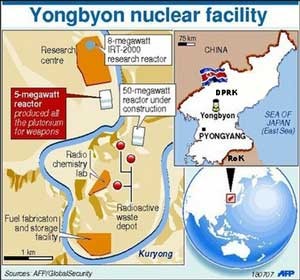 The Yongbyon nuclear site in North Korea (AFP Photo)
The eight experts would launch the process of "actual disablement" at the key Yongbyon nuclear complex, the source of bomb-grade plutonium for DPRK, which conducted its first atomic weapons test exactly a year ago, officials said.
The experts are expected to reach Pyongyang on Thursday after a stopover in Beijing.
They would stay in DPRK for about a week before another team takes over in a "baton pass," said Sean McCormack, the State Department spokesman.
DPRK agreed last week to disable by December 31 the main plutonium producing reactor at Yongbyon and two other key nuclear facilities at the complex, which were shut down in July in the first phase of a February six-party agreement.
The United States, a nuclear weapons state, will lead the disablement drive as Pyongyang makes a full declaration of its nuclear network under the deal clinched by China, the United States, Russia, the two Koreas and Japan.
DPRK was promised energy aid as well as diplomatic and security guarantees if it disbands its nuclear weapons drive.
The United States is taking great pains to ensure that DPRK sticks to its plan to declare and disable its nuclear program and eventually dismantle it and surrender all the atomic material.
DPRK previously shut down the Yongbyon reactor under a 1994 agreement clinched during the administration of then president Bill Clinton, but it withdrew from the pact after the Bush administration in 2002 accused it of developing a secret uranium enrichment program.
The North responded by throwing out weapons inspectors, leaving the nuclear Non Proliferation Treaty (NPT) and resuming its atomic activities.
"We don't want a situation like in 2002 ... (when) they were able to turn the plant back on in two months time," said Christopher Hill, the US pointman for the six-party talks, pointing out that there was no disablement then.