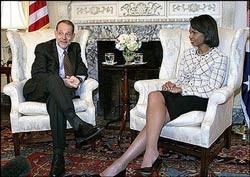 Javier Solana(L) of the European Union meets with US Secretary of State Condoleezza Rice in Washington, DC (AFP Photo)
US Secretary of State Condoleezza Rice made the announcement Wednesday after failing to secure backing for tough action against Iran's sensitive uranium enrichment work during two days of talks with foreign ministers from Russia, China, Britain, France and Germany.
Although neither Rice nor any other top US official publicly acknowledged concessions, the decision appeared to be recognition that a drive for UN sanctions had stalled.
Russia and China, which both hold a veto on the UN Security Council, have made it clear they oppose coercive measures to rein in Iran's nuclear activities.
And even staunch US allies have signaled opposition to military strikes against Iran's nuclear facilities, which Washington refuses to rule out as a last resort.
"We agreed that we will continue to seek a Security Council resolution, but that we would wait for a couple of weeks while the Europeans design an offer to the Iranians that would make clear that they have a choice that would allow them to have a civil nuclear program," Rice said in an interview with ABC television.
Diplomats said negotiators from the Security Council's five permanent members plus Germany planned to meet in London on May 19 to weigh a package of incentives as well as penalties if Iran does not halt suspected efforts to build a nuclear bomb.
A Western envoy in Vienna said Britain, France and Germany would hopefully present the package to Iran within 10 days. The so-called "EU-3" have taken the lead in previous negotiations with Tehran.
Rice told NBC television the Europeans would present Tehran with two options: defiance leading to international isolation or "a path to a civil nuclear program that is acceptable to the international community."
Rice said above all Iran could not have access to technologies to make an atomic bomb. "That means that enrichment and reprocessing on their territory can't be permitted."
Indonesian President Susilo Bambang Yudhoyono supports Tehran in its claim that the nuclear program is purely peaceful, and has offered to help mediate in negotiations.
UN Secretary General Kofi Annan urged Iran to drop its defiant stance and expressed hope that the European initiative would prove successful.
"It's important the Iranians remain open and that they back away from this aggressive posture and be open to discussion," Annan said.
The former chief negotiator for Iran on the nuclear issue, Hassan Rohani, meanwhile called for renewed efforts to clinch a negotiated agreement as part of broader non-proliferation efforts.
"A negotiated solution still can and must be found if we intend to strengthen the non-proliferation regime and avoid an unwise and unnecessary conflict," Rohani wrote in a letter published in Time magazine.
He said both sides had to set aside emotion and "the baggage of immediate and long-past history of Iran-U.S. relations
AFP-SGGP