SINGAPORE, June 4, 2011 (AFP) - US Defense Secretary Robert Gates warned Saturday that clashes may erupt in the South China Sea unless nations with conflicting territorial claims adopt a mechanism to settle disputes peacefully.
"There are increasing concerns. I think we should not lose any time in trying to strengthen these mechanisms that I've been talking about for dealing with competing claims in the South China Sea," he said.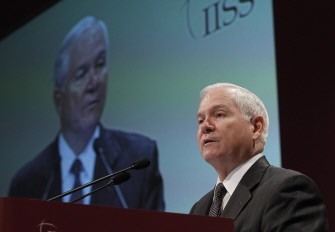 AFP - US Defense Secretary Robert Gates makes a keynote speech at the 10th IISS Asia Securities Summit/Shangri-La Dialogue in Singapore on June 4, 2011.
"I fear that without rules of the road, without agreed approaches to deal with these problems, that there will be clashes. I think that serves nobody's interests," Gates told a security conference in Singapore, before flying to Kabul.
The islands at the centre of the long-running dispute are the Paracel archipelago and the more southernly Spratlys, both potentially resource-rich outcrops that straddle strategic shipping lanes.
China, the Philippines, Taiwan, Brunei, Malaysia and Vietnam have laid claim to overlapping sections of the territories.
Gates called on the countries involved to build on a 2002 agreement between the Association of Southeast Asian Nations and China setting a "code of conduct" aimed at resolving disputes peacefully.
Diplomatic tensions have risen in recent weeks following allegations of increased Chinese activity in the area.
On Friday, Philippines President Benigno Aquino said the country had documented up to seven incidents in less than four months in which China trespassed into what Manila considers its territorial waters.
One of the incidents involved a Chinese vessel allegedly opening fire on Filipino fishermen, he added.
In May, Chinese maritime ships confronted a Vietnamese oil exploration vessel between the Paracels and the Spratlys.
Hanoi also reported that Chinese ships fired warning shots at Vietnamese fishermen near the Spratly islands last Wednesday.