The US Federal Reserve extended its record low interest rates Wednesday and reaffirmed this policy would remain in place "for an extended period" to support a still-precarious economic recovery.
The central bank, concluding a two-day policy meeting, maintained the federal funds base rate of a range of zero to 0.25 percent, which has been in place for the past year under a plan to revive economic activity.
The Federal Open Market Committee headed by chairman Ben Bernanke did acknowledge some improvement in economic conditions, notably in the troubled labor market, but indicated this was not enough to shift away from a massive stimulus effort.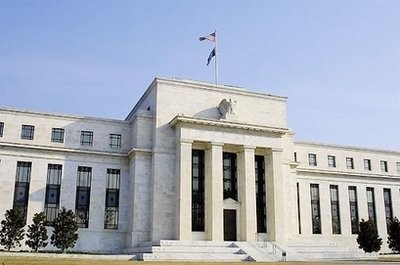 The US Federal Reserve building in Washington, DC.
The FOMC statement said that recent data "suggests that economic activity has continued to pick up and that the deterioration in the labor market is abating."
It noted that the housing sector "has shown some signs of improvement over recent months" and that consumer spending is growing "a moderate rate" but is constrained by a weak labor market and tight credit.
The FOMC did reaffirm that some special programs to help restore credit would expire as scheduled and that the central bank would proceed with its trillion-dollar effort to pump money into housing and credit markets.
The text of the US Federal Reserve statement
"The Fed has a slightly more upbeat tone on the economy, but there is no hint that it is preparing to raise interest rates," said Sal Guatieri, economist at BMO Capital Markets.
Others said the Fed is moving slowly to execute its so-called exit strategy from a massive effort to jolt the US economy out of recession.
"No rate hike should be expected at least through the first part of next year. But the Fed is remaining flexible," said Joel Naroff at Naroff Economic Advisors.
"The members are adjusting their outlook to the evolving economy and are starting to remove some of the crutches, such as the purchases of mortgage-backed securities."
The FOMC said it sees "substantial resource slack likely to continue to dampen cost pressures: and predicted that "inflation will remain subdued for some time."
These conditions "are likely to warrant exceptionally low levels of the federal funds rate for an extended period," the FOMC statement said.
A series of programs to restore credit flows are likely to be allowed to expire in 2010, the statement said, confirming the timetable announced earlier this year.
These include efforts to guarantee commercial paper and asset-backed securities used for short-term corporate funding.
The FOMC said it remains in the process of pumping over one trillion dollars into financial markets to support the housing sector and other types of credit, but said these will be concluded as planned in early 2010.
"In order to promote a smooth transition in markets, the committee is gradually slowing the pace of these purchases, and it anticipates that these transactions will be executed by the end of the first quarter of 2010," the statement said.
John Silvia, economist at Wells Fargo, said the Fed is showing confidence in the economic recovery by allowing the extra programs to run their course.
This path is "a little stronger than some of the regional presidents had predicted," he added.
Silvia said the Fed may face political pressure as it withdraws some of the stimulus even with unemployment still close to 10 percent.
"You still have a lot of people issuing mortgage securities that no one is buying," Silvia said.
With the Fed exit, Silvia said "mortgage rates will rise" and the economy will still be far from a full recovery, with unemployment still high.
"A lot of politicians are going to get angry," he said.