WASHINGTON (AFP) – The Federal Reserve's Ben Bernanke will give the central bank's first-ever post-meeting briefing on Wednesday, hoping to make a little -- but not too much -- Fed history.
In its 97 years the Federal Reserve has never answered questions after a meeting of its top policy-making panel.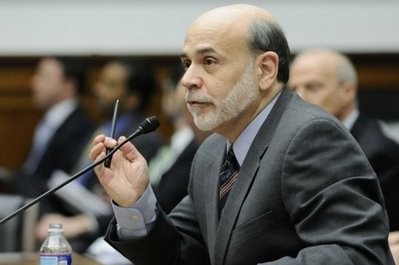 AFP - The Federal Reserve's Ben Bernanke
That will all change on Wednesday at 14:15 in Washington (18:15 GMT), when chairman Ben Bernanke makes a brief statement and then takes questions from the press.
It is a seemingly small step, but is close to revolutionary for the ordinarily reserved bank -- with far-reaching implications for economic policy and the markets.
While Bernanke often comments on thorny and even politically charged topics, he usually does so via written statements, speeches delivered verbatim or carefully prepared congressional testimony.
But on Wednesday every ad-lib response about rising petrol prices, Fed stimulus spending and US debt will be parsed by investors, with billions if not trillions of dollars depending on his tone, demeanor and word selection.
"There is little room for error," said Ryan Sweet of Moody's Analytics. "Miscommunication could rattle financial markets and create additional uncertainty."
On currency markets, for example, trader Kathy Lien predicts the dollar's value could rise -- making many US exports more expensive -- "simply because Bernanke did not say anything particularly damaging."
If that were not enough pressure, Bernanke's "'body language' may matter as much for the perceived success of the press conferences as the technical precision of his answers," according to Goldman Sachs economist Andrew Tilton.
Even for a seasoned public speaker like Bernanke, the scope for error is almost limitless.
For a start, the press conferences will give Bernanke more opportunity than usual to make a mistake.
The Fed's top interest-rate setting panel is used to issuing a roughly 400-word statement after its regular meetings.
But if Bernanke copies his counterpart at the European Central Bank, he is likely to utter more than 2,000 words during the 45-minute question and answer session.
Even if he avoids roiling markets by sounding more or less optimistic than expected, he could still upset the public and damage the Fed's broader standing.
On gasoline prices, for example, Bernanke will have to temper empathy for Americans who are angry about high prices at the pump with his view that energy and food prices do not matter too much when thinking about inflation risks.
He could also veer into non-policy trouble.
His ECB counterpart Jean-Claude Trichet was once heckled at a press conference in Germany for mentioning the national team's soccer World Cup defeat at the hands of Spain the night before.
"The press conference presents both risks and opportunities for Chairman Bernanke and the Fed," said Goldman Sachs's Tilton.
Tilton said the press conferences, coming directly after meetings of the Federal Open Market Committee, give Bernanke an all-important first opportunity to set the tone of debate.
In recent months some of his nine colleagues on the committee have expressed a more strident tone on tackling rising prices, skewing expectations away from the panel's majority view, which is more concerned about high unemployment.
That has spurred fierce criticism of the Fed's recent stimulus policies, including the purchase of $600 billion worth of US bonds, which Bernanke is expected to signal is coming to an end.
But given the pitfalls, many analysts expect the Fed chair will be ultra-cautious.
"We expect the chairman to choose his words very carefully," said David Resler and Aichi Amemiya of the Japanese investment bank Nomura.
"In any event, we believe this press briefing will prove to be an important new step toward greater transparency about policy," they added.
Whatever Bernanke says, it could be a radical change for an institution that just decades ago did not even inform the public about its interest rate decisions.