Asian stocks rallied Friday after data showed the United States has moved out of a painful recession while Japan also released upbeat figures, lifting hopes for a recovery in global economies.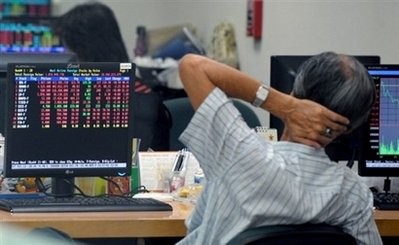 A Thai investor reacts as he looks at monitor displaying shares price at a finance company in Bangkok.
The leap in US gross domestic product came after three days of heavy losses caused by downbeat figures earlier in the week from the world's biggest economy, shifting attention from a slew of forecast-beating corporate results.
Tokyo closed 1.45 percent higher, while Hong Kong was up 2.99 percent at the break and Sydney closed 1.5 percent stronger.
Fears that the opening Friday of a new board index for small and medium-sized firms could hurt liquidity in the main index were not realised, with the Shanghai bourse more than two percent higher at midday.
However Seoul closed down 0.33 percent on profit taking after earlier gains that were helped by a record net profit in the September quarter for Samsung Electronics.
The US Commerce Department's first estimate Thursday was that the economy grew 3.5 percent in the third quarter from the previous three months -- its strongest growth in two years and the first since the second quarter of 2008.
The figures, helped by multi-billion dollar stimulus measures from Washington, beat analysts' forecasts for a 3.2 percent growth.
The news sent the Dow Jones 2.05 percent higher Thursday, its largest single jump since July -- a day after recording its worst single fall in October.
The US news boosted other world markets, with Sao Paulo soaring 5.9 percent, Buenos Aires 4.09 percent higher and Toronto 2.50 percent up.
However, analysts played down true impact of the results on the stock markets, saying that they gave dealers another reason to step in after the heavy losses of the past three days.
"The US economy is now (unofficially) out of recession. But it may just come down to the simple fact that after a sell-off in many markets, investors saw it as a good level to step in," said ANZ bank Economist Philip Borkin in Wellington.
And IG Markets Research Analyst Ben Potter said: "The market doesn't seem convinced that today's recovery is the end of the downward correction."
He added: "I wouldn't be surprised if we see further falls."
World markets had been sent spiralling downwards this week on a mix of poor US consumer sentiment and an unexpected fall in new home sales.
However investor sentiment was further boosted by Japan government figures Friday showing unemployment fell to 5.3 percent -- beating expectations of a rise to 5.6 percent -- while household spending rose and deflation eased.
A separate survey showed there were 43 job offers for every 100 jobseekers in September, up from a record low of 42 in the previous two months. It is the first time since May 2007 the job-offer ratio has improved from the previous month.
Japan's central bank kept its super-low interest rates unchanged but said by the end of the year it would it would put a stop to some of the emergency measures in place since 2008 to fight the financial crisis.
The Bank of Japan pointed to the improving outlook in the world's number two economy for its decision.
In China shares rocketed on the first day of trading on the new Nasdaq-style ChiNext board, with one firm up almost 260 percent from its initial public offering price and another 170 percent higher.