WASHINGTON, April 2, 2009 (AFP) - The US House of Representatives passed a 3.5-trillion-dollar budget blueprint on Thursday that signals broad support for President Barack Obama's climate change and health care overhaul ambitions.
Obama's Democratic majority slightly streamlined his spending proposals for the fiscal year that starts October 1 amid Republican warnings about bloated spending and the exploding national debt.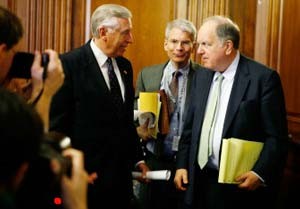 Chairman of the U.S. House Budget Committee Rep. John Spratt (R) talks to House Democratic Leader Rep. Steny Hoyer (L) as they leave after a news conference on Capitol Hill April 2 in Washington, DC (AFP Photo)
The Senate was expected to pass its own version later in what would be a victory for the president -- even though he does not sign the framework and bitter legislative battles on his main priorities are yet to come.
The House voted 233-196 to approve the budget plan, without a single vote from Republicans, who offered an alternate approach that would slash taxes and restrict spending that Democrats say is critical to reviving the US economy.
"This budget is a key part of our return to prosperity; it provides the long-term investments that will make prosperity last," Democratic Majority Leader Steny Hoyer said in a statement.
"Today we have a chance to begin bringing down the cost of health care; breaking our addiction to foreign oil; creating the best-prepared workforce in the world; and returning America to fiscal health," he said.
Republican Minority Leader John Boehner denounced the plan as "a road map to disaster," highlighting skyrocketing budget deficits that balloon the US national debt.
The House and Senate will reconcile their versions of the plan, which is a non-binding spending framework that sets the stage for actual spending legislation later in the year -- when all sides expect pitched battles on the president's climate change and health care policies.
Obama, in London attending a crunch meeting of the Group of 20 developed and developing nations, hailed the House vote as "another step toward rebuilding our struggling economy."
"This budget resolution embraces our most fundamental priorities: an energy plan that will end our dependence on foreign oil and spur a new clean energy economy; an education system that will ensure our children will be able to compete in the economy of the 21st century; and health care reform that finally confronts the back-breaking costs" plaguing Americans, he said in a statement.
Obama has disputed a grim Congressional Budget Office warning that the federal budget deficit could hit 1.845 trillion dollars this year under the Obama proposal, quadrupling the 2008 record shortfall and reaching to 13.1 percent of the total US economic output.
The House resolution would trim the deficit to 1.2 trillion dollars in 2010, compared to the president's figure of 1.4 trillion.
Obama said that "by making hard choices and challenging the old ways of doing business, we will cut in half the budget deficit we inherited within four years."
House Speaker Nancy Pelosi hailed the vote, citing increased commitments to education; better treatment of military veterans and health care for Americans; reduction of the deficit and increase in energy production; and tax cuts.
"It is a day that we have waited for, worked for, hoped for, and now we will be able to pass a budget that truly is a statement of our national values," she said.
Republican Congressman Jeb Hensarling of Texas slammed the House vote as a bloated blueprint for spending on government projects that are bound to plunge the country further into debt.
"Never in the history of America have so few voted so fast to indebt so many," Hensarling said.
Obama in his statement acknowledged that compromise would be needed to finalize the budget.
"With this vote comes an obligation to pursue our efforts to go through the budget line-by-line, searching for additional savings," the president said.
"Like the families we serve, we must cut the things we don't need to invest in those we do."