India and the United States were seeking to reassure each other on Thursday about their warming relationship as they lay the groundwork for a visit by President Barack Obama later this year.
US policymakers across the political spectrum support developing a broad alliance with India, which had uneasy relations with Washington throughout the Cold War.
But many Indians remain anxious about Obama, who has put a high priority on relations with fellow rising Asian power China, and has boosted aid to Pakistan in a bid to fight Islamic extremism in India's historic rival.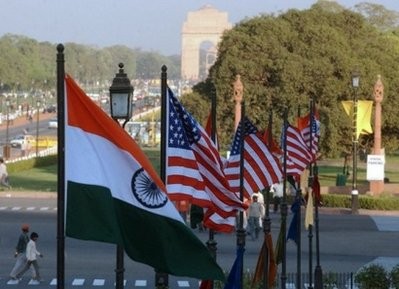 US and Indian flags fly side by side in New Delhi during a diplomatic event in the city
Secretary of State Hillary Clinton and Indian Foreign Minister S.M. Krishna will hold a day of talks Thursday aiming to step up cooperation between the world's largest democracies on a range of issues in South Asia and beyond.
Obama is expected to make an unusual visit to the State Department to take part personally in the dialogue's reception, which will also include members of the increasingly influential Indian-American community.
Obama plans to pay his first presidential visit to India later this year. In November, he invited Indian Prime Minister Manmohan Singh for the honor of Obama's first White House state dinner.
The top White House economic adviser, Lawrence Summers, said it was an anomaly that India and the United States did not have closer relations.
"It is the confident expectation of the government of the United States that that will be very different in the 21st century," Summers told the US-India Business Council on Wednesday.
William Burns, the under secretary of state for political affairs, said Tuesday that the United States sought the "strongest possible partnership" with India and did not link the relationship to Pakistan or China.
Burns on Wednesday opened the dialogue with closed-door meetings with his Indian counterpart, Foreign Secretary Nirupama Rao.
Relations between India and the United States improved markedly under former president George W. Bush, who spearheaded a landmark agreement that allows New Delhi access to civilian nuclear technology.
India had been a pariah after declaring itself a nuclear weapons power in 1998 with tests that were reciprocated by Pakistan. Both countries refuse to sign the Non-Proliferation Treaty.
While some lawmakers from his Democratic Party initially opposed the nuclear cooperation deal, the Obama administration has forged ahead with it, completing arrangements in March for the reprocessing of nuclear material.
But the United States still wants India to approve legislation that would limit compensation payments from nuclear suppliers in the event of a nuclear accident.
Krishna, also addressing the US-India Business Council, vowed to push ahead despite controversy over the bill in parliament.
"We are well within the agreed timeframes. Of course, the government is committed to putting in place a nuclear liability regime," Krishna said.
Critics of the bill point to what they see as light punishment meted out after the 1984 industrial disaster in Bhopal, in which upwards of 10,000 Indians died in a gas leak from the Union Carbide plant.
But advocates say that such liability caps are standard practice around the world, with nuclear plant operators -- not their suppliers -- bearing the main burden for any accidents.
Krishna also called for greater two-way trade, saying: "Economic relationships constitute the bedrock on which social, cultural and political relations are built."