MUMBAI, May 24, 2011 (AFP) - US Homeland Security secretary Janet Napolitano on Tuesday paid homage to the police victims of the 2008 Mumbai attacks as she began a four-day visit to India to boost counter-terrorism ties.
Napolitano placed a ceremonial wreath and stood head bowed in silent tribute for one minute at the memorial to the uniformed officers who died when India's financial capital was hit by Islamist extremists.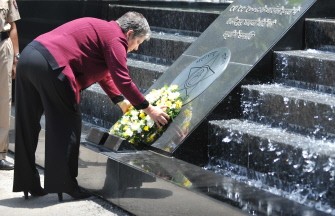 AFP - US Homeland Security secretary Janet Napolitano lays a ceremonial wreath to commemorate the 19 police victims
The memorial at the Mumbai Police sportsground is a short distance from where the sole surviving gunman, Mohammed Ajmal Amir Kasab, was captured. He is now facing a death sentence for his part in the attacks.
Napolitano, who was to meet officials from the state government of Maharashtra and law enforcement representatives in closed-door discussions, is also due for talks with India's Home Minister P. Chidambaram in New Delhi.
The US government says Napolitano will launch the US-India Homeland Security Dialogue, which aims to increase communication between the two countries about terrorism.
President Barack Obama called for closer ties on counter-terrorism when he visited Mumbai last November.
Napolitano's visit comes amid strained relations between the United States and Pakistan -- its key ally in the fight against extremism but India's main regional rival -- after the killing of Osama bin Laden.
India blames the banned, Pakistan-based Islamist group Lashkar-e-Taiba (LeT) for training, financing and equipping the Mumbai attackers, who killed 166 in co-ordinated attacks on high-profile targets across the city.
New Delhi was quick to link the Al-Qaeda chief's death in the Pakistani garrison town of Abbottabad three weeks ago to its long-held claim that its neighbour is a haven for extremists.