New claims for US unemployment benefits fell 8.4 percent last week to a six-month low, official data showed Thursday, suggesting some improvement in the troubled job market.
The Labor Department said that initial claims for unemployment insurance benefits fell to a seasonally adjusted 565,000 in the week ended July 4.
It was the lowest number of new claims since the week ended January 10, but the data was skewed by fewer-than-expected layoffs in the automotive sector, the department noted.
Most analysts had forecast claims of 603,000 in the holiday-shortened week. The July 4 Independence Day holiday was observed Friday.
The department said the revised prior week's claims was 617,000, an increase of 3,000.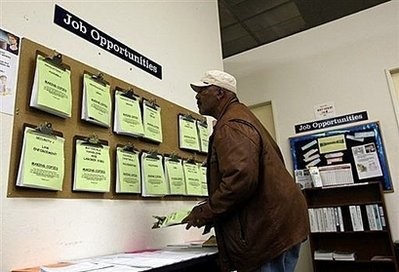 A jobseeker looks at listings posted at the East Bay Works One-Stop Career Center in Oakland, California
Analysts cautioned that the claims data gave a misleading reading on the labour market because of the seasonal adjustment.
"The Labor Department's seasonal adjustment anticipated a jump in layoffs due to summer auto plant shutdowns. Since these layoffs had already occurred, the jump never materialized, sending claims plummeting," said Andrew Gledhill of Moody's Economy.com.
"These seasonal distortion issues will likely remain a factor over the next few weeks and potentially lead to a large jump three weeks from now," he added.
The Labour Department reported the four-week moving average, considered a more representative indicator of unemployment trends, declined 1.6 percent to 606,000 claims.
Ian Shepherdson at High Frequency Economics said that "the underlying trend in claims is downward, just."
"By the time the data are clean again, a month or so from now, we hope to see claims sustained below 600,000, but that's not a view we hold with great confidence."
In the week ended June 27, the insured unemployment rate was 5.1 percent, up one-tenth point from the preceding week's unrevised rate, the data showed.
For that week, a record 6.883 million people claimed unemployment benefits, a gain of 159,000 from the prior week's revised level of 6.724 million.
The number of those claiming jobless benefits was the highest since tracking of the data began in 1967.
On a four-week moving average, those filing claims edged up 0.2 percent to 6.769 million, also a record peak.
Since the recession began in December 2007, the world's biggest economy has lost 6.5 million jobs and the jobless rate has risen 4.6 percentage points, to a 26-year high of 9.5 percent in June.