The United States stood firm on seeking to revive six-nation talks with North Korea and pressed ahead with sanctions, despite an appeal by the UN chief to switch to negotiating.
North Korea, which in recent months has tested a nuclear bomb and missiles, said this week it was open to a "specific and reserved" dialogue on its nuclear program -- but warned against any push to restart six-way talks.
UN Secretary-General Ban Ki-moon said he was encouraged by the statement and urged the United States to pursue a direct dialogue with the North.
"We've seen his remarks," State Department spokesman Ian Kelly said of Ban.
"Our approach on North Korea is we feel very strongly that we have to engage North Korea multilaterally, through the six-party mechanism," Kelly told reporters.
Kelly said the United States was open to direct contact with North Korea, perhaps in an effort to free two US journalists sentenced to hard labor for entering the secluded country.
But he added: "We feel very strongly that any (bilateral) talks that we have have to be in the context of the six-party talks."
The six-party talks -- involving China, Japan, the two Koreas, Russia and the United States -- reached a deal in 2007 to provide North Korea with security guarantees and badly needed fuel if it ends its nuclear weapons drive.
But North Korea stormed out of the deal in April, saying it was protesting a UN Security Council statement criticizing its test of a missile.
A month later, Pyongyang tested a nuclear bomb, leading to UN Security Council Resolution 1874 which calls for further inspections of air, sea and land shipments going to and from North Korea, and an expanded arms embargo.
A US envoy handling the sanctions, Philip Goldberg, is heading to Asia and Russia in mid-August on a tour aimed at carrying out sanctions.
Goldberg, briefing a United Nations panel on Thursday on US implementation, warned of potential further sanctions.
"One of the things that we discussed... is the idea that designations are still on the table," he told reporters in New York.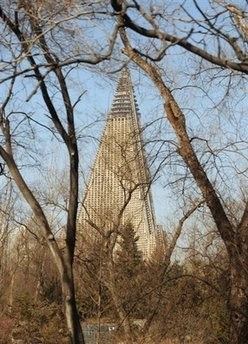 A view of the Ryugyong Hotel in the Potong-gang district of the North Korea capital Pyongyang
"They still can be made," he added.
Experts say that North Korea is seeking US recognition as a nuclear power -- particularly as leader Kim Jong-Il's faltering health triggers a looming power struggle.
Many, though not all, US policymakers insist on the six-way process as it brings aboard China, the country seen as having the most leverage on North Korea.
The six-way framework is also seen as a way to encourage North Korea to ease longstanding friction with Japan.
Tensions have also been high with South Korea. North Korea on Thursday seized a stray fishing boat from the neighboring country along and its four crew members.
Ban, a former South Korean foreign minister, said Wednesday that while he believed "six-party talks still can provide a good way for solution through dialogue, if necessary there should be some other form of dialogue."
China has also encouraged the United States to reach out.
Wang Guangya, China's vice foreign minister, said after high-level talks in Washington this week that North Korea was ready for a package from the United States that "accommodates reasonable security concerns."