HONG KONG, Aug 10, 2009 (AFP) - Asian markets jumped on Monday, lifted by better than expected jobs figures out of the United States and stronger Japanese data, boosting hopes the recession-hit economies were on the mend.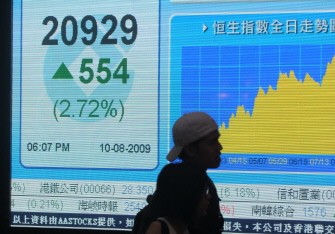 Pedestrians walk past a graph showing the Hang Seng index in Hong Kong on August 10, 2009 (AFP photo)
Data on Friday in the US showed unemployment had fallen 0.1 percentage point to 9.4 percent in July as President Barack Obama's multi-billion-dollar stimulus plan kicks in.
The figures sent the Dow Jones Industrial Average up 1.23 percent to its highest for more than nine months.
On Monday the US news -- combined with reports showing Japan's current account surplus growing for the first time in 16 months in June and core machinery orders rebounding sharply -- lifted traders.
Hong Kong led the rally, adding 2.72 percent, while Tokyo rose 1.08 percent, Sydney 0.11 percent and Taiwan 0.21 percent.
However, China edged lower on continuing fears that banks will slash lending in the second half of the year.
Singapore was closed for a public holiday.

TOKYO: Up 1.08 percent. The Nikkei-225 gained 112.17 points to 10,524.26.
Prices are at their highest since October 3 as investors cheered a weaker yen and signs of an improvement in the US and Japanese economies.
Merger and acquisition speculation also stirred investors' interest, after the Nikkei business daily reported that Mitsubishi Chemical Holdings is planning to acquire plastics company Mitsubishi Rayon.
Mitsubishi Rayon shares leapt 20 percent to 327 yen and Mitsubishi Chemical gained 4.7 percent to 443 yen.
Auto and electronic makers were boosted by the weaker yen, which is good for exporters.
Honda Motor jumped 3.5 percent to 3,210 yen and Sony added 3.2 percent to 2,780 yen.
Daiichi Sankyo rose 2.7 percent to 1,818 yen after it said clinical studies of a new influenza drug that it co-owns had been successful.

HONG KONG: Up 2.72 percent. The Hang Seng Index rose 554.15 points to 20,929.52.
The market reached its highest since August 29, when it ended at 21,261.
Traders said they expect ample liquidity to continue supporting the index in the near term.
Heavyweight China Mobile led the domestic market rally on mainland listing hopes. It rose 3.4 percent to 91.55 dollars after the Oriental Daily reported the company will very likely list in Shanghai next year.
Chinese Premier Wen Jiabao's affirmation over the weekend that the country will maintain its active fiscal policy and moderately loose monetary policy also boosted the local market.
China Construction Bank rose 4.0 percent to 5.98 dollars and Industrial & Commercial Bank of China gained 3.1 percent to 5.27 dollars.

SYDNEY: Up 0.11 percent. The S&P/ASX 200 closed up 4.7 points or 0.11 percent at 4,304.1.
Austock Securities senior client adviser Michael Heffernan said it was a disappointing performance after a rally of more than five percent in the past two weeks.
"We opened with gusto on the back of overseas markets and commodity prices but then we ran out of puff," he said.
On Monday Fortescue announced a full-year profit of 508 million US dollars, turning around a 771.8 million US loss a year earlier. It closed down 25 cents or 5.67 percent at 4.16 dollars.
Rio Tinto fell 2.02 dollars to 58.55 and BHP Billiton lost 24 cents to 37.76.
Commonwealth fell 61 cents to 43.84 and Westpac was down 17 cents at 22.66.
Telstra rose six cents to 3.58 dollars.
BHP Billiton and Telstra will post their results later this week.

SHANGHAI: Down 0.34 percent. The Shanghai Composite Index, which covers A and B shares, was down 10.93 points at 3,249.76.
Banks and property developers led the fall amid concerns over future credit availability.
Premier Wen Jiabao said China would maintain its current macroeconomic policy stance, including proactive fiscal policy and moderately loose monetary policy, according to a statement published Sunday.
But, unlike in Hong Kong, his affirmation failed to quell worries.
"Investors shrugged off Wen's remark because the growth in new yuan loans in the remaining months... will surely slow down," Central China Securities analyst Zhang Gang said.
Banks and property developers fell.
China Construction Bank dropped 2.0 percent to 5.99 yuan while China Vanke dropped 1.7 percent to 12.54 yuan.

SEOUL: Flat. The KOSPI edged up 0.11 points at 1,576.11.
Airlines fared well on expectations that recent gains in the local currency would boost demand. Korean Airlines added 1.11 percent to 45,500 won and its smaller rival Asiana Airlines jumped 4.95 percent to 4,135.
Shares related to inter-Korean economic cooperation traded in positive territory.
Hyundai Merchant Marine ended 10.9 percent higher at 29,000 won, while Hyundai Elevator rose 4.4 percent to 66,500.
However, large-cap blue-chips lost ground on profit-taking. Samsung Electronics shed 0.84 percent to 710,000 won and leading steelmaker POSCO lost 1.69 percent to 495,500.

TAIPEI: Up 0.21 percent. The index rose 14.22 points to 6,882.87.
The impact from the island's worst flooding in 50 years, caused by deadly Typhoon Morakot, hit gains made on the back of Wall Street's rally, dealers said.
The floods left at least 14 people dead, 51 missing and 32 injured, and caused widespread agricultural damage.
Dealers returned to the market Monday after Morakot caused trading to be suspended Friday.
Tourism was pressured as investors feared the flooding will hit revenue, with Ambassador Hotel shedding 6.76 percent to 34.50.
However, cement and steel stocks gained on hopes that restructuring work will boost their bottom line. Taiwan Cement rose 2.96 percent to 38.30 and China Steel Structure added 6.90 percent to 20.15.
Taiwan Semiconductor Manufacturing Co rose 1.76 percent to 57.80.

JAKARTA: Up 1.72 percent. The Jakarta Composite Index gained 40.14 points to 2,389.56.

KUALA LUMPUR: Up 0.26 percent. The Kuala Lumpur Composite Index added 3.12 points to 1,188.
Rubber glove manufacturer Supermax added 11 percent at 3.03 ringgit while New Straits Times Press rose 6.9 percent at 1.87.
On the downside, construction company Gamuda lost 2.1 percent to 3.27.

BANGKOK: Flat. The Stock Exchange of Thailand edged 0.45 points or 0.07 percent to close at 643.75.
Banpu dropped 14.00 baht to 410.00 baht, PTT Plc closed unchanged at 251.00 while Bangkok Bank edged down 0.50 to finish at 113.00 baht.

MANILA: Up 2.42 percent. The composite index added 67.60 points to close at 2,850.58.
Jose Vistan of AB Capital Securities said there was renewed interest in Manila Electric Co. (Meralco) on news that food and beverage giant San Miguel Corp. was keen on buying additional shares in the firm.
Meralco rose 11.7 percent at 262.50 pesos. Both A and B shares of San Miguel were unchanged at 65 pesos and 65.50 pesos, respectively.

WELLINGTON: Up 0.39 percent. The NZX-50 rose 11.98 points to 3,080.97.
Investors were looking for clues about the state of the economy as the reporting season began, dealers said.
In a departure from usual trends, the market leaders were not the driving force as Telecom retreated two cents to 2.75 dollars and Fletcher Building eased 14 cents to 718 while Contact Energy lost one cent to 6.49.
NZX advanced 24 cents to 7.85 on light volume in an ongoing reaction to a strong result on Friday.

MUMBAI: Down 0.99 percent. The 30-share Sensex fell 150.47 points to 15,009.77.