Two U.S. journalists, detained by Democratic People's Republic of Korea (DPRK) in March and released in early August, have admitted entering the DPRK territory, but said border guards apprehended them on the Chinese soil.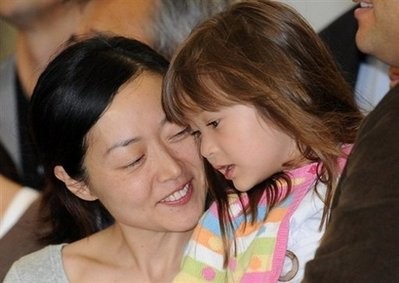 Freed US journalist Euna Lee holds her daughter Hana in Burbank, California after Lee's arrival from detention in DPRK. (AFP Photo)
Euna Lee, 32, and Laura Ling, 36, had been sentenced to 12 years of hard labor for illegal entry into DPRK and engaging in "hostile acts." Their release was secured by former U.S. president Bill Clinton.
"We didn't spend more than a minute on DPRK soil before turning back, but it is a minute we deeply regret," the women said in the public account of their detention in DPRK, published on the Current TV website.
The reporters were making a story about the fate of North Korean defectors and arrived to the Tumen River on the border between China and DPRK to document a well-used trafficking route.
The women say their guide persuaded them to cross the ice-covered river and enter the DPRK territory. While returning back to the Chinese side, the women heard yelling and saw armed DPRK soldiers running toward them.
"We were firmly back inside China when the soldiers apprehended us... They violently dragged us back across the ice to DPRK and marched us to a nearby army base, where we were detained," they went on.
Speaking about their ordeal in DPRK, the reporters said that they were "not prepared" to talk about their imprisonment as "there are things that are still too painful to revisit."