Washington kept up pressure for new sanctions on Iran Monday after talks in London in the wake of Tehran's refusal to bow to UN demands to halt its nuclear fuel processing.
"There will be consequences," if Iran does not remain in negotiations over its nuclear program, State Department spokesman Sean McCormack said.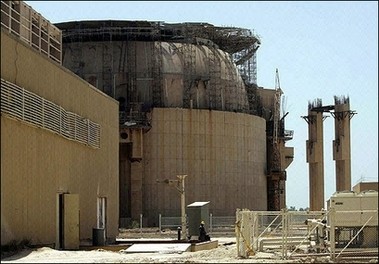 A general view shows the Bushehr nuclear power plant in the Iranian Persian Gulf port of Bushehr, 1,200 Kms south of Tehran.
McCormack said senior US diplomat Nick Burns said the six-powers meeting on Iran in London Monday was conducted "in a very good, positive, constructive atmosphere."
McCormack noted that the six powers in the talks, the United States, Britain, Russia, China, France and Germany, had agreed to talk again Thursday by telephone to try to thrash out which elements to include in a new tougher UN Security Council resolution on Iran.
"Coming out of this meeting, they have agreed on the fact that they will go forward with a UN sanctions resolution," he said.
"We hope at that point that they can actually come to agreement on the elements of the resolution. And then you also -- then you would proceed from that point in finishing up negotiations on the actual text of the resolution," he said.
On Thursday the International Atomic Energy Agency issued a report saying that Iran had not halted, and in fact had expanded, its uranium enrichment program, defying a UN Security Council demand to stop by last week.
The Unites States and some other western powers believe Iran is pursuing a nuclear weapons capability.
Iran however has denied seeking nuclear weapons, and asserts it has a right to a peaceful nuclear program.
McCormack added that Burns called the the meeting "really one of the best meetings of this type that we have had in about two years; that it was conducted in a very good, positive, constructive atmosphere."
The six countries "reaffirmed their commitment to make it clear to the Iranian government that the pathway to negotiation is also open to them. ... But we are equally committed to sending the message to the Iranian government: Should they choose not to proceed down that pathway, then there will be consequences," McCormack said.
However, in New York Monday former UN weapons inspector Hans Blix warned that "humiliating" Iran over its uranium enrichment could spawn intransigence.
"It's an observation I've made before regarding Iraq," said Blix, a key opponent of the US-led invasion of Iraq.
"Why did the Iraqis behave as they did in the 1990s (and) send away the UNSCOM inspectors and close the door to them?" he asked, referring to the UN Special Commission mandated to inspect Iraqi weapons of mass destruction after the 1991 Gulf War.
"One element was 'humiliation'," he said. "It was not rational of them to stop the inspections, it really worked against their own interest and yet I can see that the humiliation, the fury, was such that they said, 'To hell with it'," said Blix.
He said the Iran cases was similar. "One feature, which is now key and peculiarly not very much debated ... is the demand -- first of the Europeans and then of the US and also of the (UN) Security Council -- that first Iran must suspend enrichment," he said.
"This is, in a way, like telling a child, 'now first you behave and thereafter you'll be given your rewards'. And this I think is humiliating," the veteran diplomat said.