WASHINGTON, Jan 13, 2010 (AFP) - Washington launched a sweeping military and civilian operation to aid quake-hit Haiti Wednesday, as President Barack Obama's two top deputies canceled foreign trips to focus on saving lives.
Forward teams of civilian and military experts began landing in Haiti as US aircraft searched for survivors and tried to assess the damage from the massive 7.0 magnitude quake, with some 5,000 troops on stand-by to move in.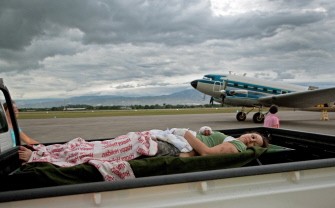 An unidentified female earthquake victim is transported by pick-up truck to the airport on January 13, 2010 in Port-Au-Prince from where she will be evacuated for treatment in another country, one day after a cataclysmic earthquake struck Haiti. More than 100,000 people are feared dead. AFP Photo
As a wealthy neighbor with the world's most powerful military, the United States appeared well-placed to lead aid efforts for the impoverished Caribbean nation, mobilizing an array of specialists, ships, planes and helicopters.
"I have directed my administration to respond with a swift, coordinated and aggressive effort to save lives," Obama said.
"Search and rescue teams from Florida, Virginia and California will arrive throughout today and tomorrow."
US Secretary of State Hillary Clinton abruptly cut short her planned trip to Asia, flying back from Hawaii, as she warned that Tuesday's quake appeared to have caused a very high loss of life.
Defense Secretary Robert Gates also canceled plans for a weekend trip to Australia and decided to "remain in Washington to continue to manage the department's response to the humanitarian crisis in Haiti," Pentagon spokesman Geoff Morrell said in a statement.
At daylight, a US Navy P-3 maritime patrol aircraft, usually used to track drug trafficking in the region, flew over the stricken city of Port-au-Prince while a Coast Guard cutter with a helicopter flight deck arrived off the coast.
The USS Carl Vinson aircraft carrier was en route and set to arrive Thursday, while destroyers and more Coast Guard ships were on the way, General Douglas Fraser, head of the US Southern Command, told reporters.
More than 100,000 people were feared dead after the earthquake razed homes, hotels, and hospitals, leaving the capital in ruins and bodies strewn in the streets.
"This is going to be one of the highest in terms of loss of life in recent years, as far as we can tell," Clinton said, comparing the devastation to the 2004 Asian tsunami.
"The Indian Ocean tsunami was such a terrible tragedy and with such high loss of life. This will be a very high loss of life as well," she said.
Looking at all options, US officials did not rule out the possibility of using the US military facility in Guantanamo Bay, Cuba, as a base for operations.
The US military said it would possibly send in a large amphibious ship with a Marine Expeditionary Unit of about 2,000 personnel to help with medical and other aid operations. And commanders had put a US Army brigade of about 3,500 soldiers at Fort Bragg, North Carolina, on alert for possible deployment.
A team of US Air Force experts was also set to arrive to help restore air traffic control and communications at the airport, badly needed as a hub for relief efforts.
US officials will also be acutely aware of the need to try to stem any mass panic or attempts to flee Haiti by sea to reach the United States.
Over the years hundreds have made the perilous 1,000 kilometer (625-mile) journey in leaky boats, and many have perished on the way.
US immigration authorities meanwhile announced they had temporarily halted deportations to Haiti.
About 60 US military personnel were on the ground and some 30 military engineers, medical specialists and other experts were flying in aboard a C-130 Hercules plane to assist organize emergency aid, Fraser said.
While the full extent of the devastation remained unclear, Obama said the US Defense and State Departments along with the US Agency for International Development would lead relief efforts after the "heart wrenching" tragedy.
"The people of Haiti will have the full support of the United States in the urgent effort to rescue those trapped beneath the rubble and to deliver the humanitarian relief, food, water and medicine that Haitians will need," he said.
Obama also worked the phones talking to UN chief Ban Ki-moon after the global body lost staff and buildings in the quake.
The president also discussed the quake with Canadian Prime Minister Stephen Harper, Mexican President Felipe Calderon as well as his Brazilian and Chile counterparts.
An initial survey of the earthquake's aftermath from the air indicated the damage was mainly concentrated around the capital but the number of casualties and the scale of the disaster was still unknown, General Fraser said.
"We don't have a clear assessment right now of what the situation on the ground is," he said.