A key US manufacturing survey showed improvement for the first time in a year, the Federal Reserve Bank of New York said Monday in a fresh sign the economy may be emerging from recession.
The Empire State Manufacturing Survey's general business conditions index increased 13 points, to 12.1, its best reading since November 2007, the month before the world's largest economy officially entered recession.
"For the first time in considerably more than a year, the Empire State Manufacturing Survey indicates that conditions for New York manufacturers have improved," the New York Fed said in a statement.
The August reading topped the 3.0 points that analysts had expected and followed a negative 0.55 reading in July. Zero marks the division between growth and contraction.
The last time the index registered growth was in August 2008, at a meager 2.2 points.
The Empire State survey lent further ammunition to hopes of recovery in the embattled manufacturing sector that could bolster growth in gross domestic product (GDP), a broad measure of economic activity.
"Manufacturing may provide a larger-than-expected boost to third-quarter GDP," said Ryan Sweet of Moody's Economy.com.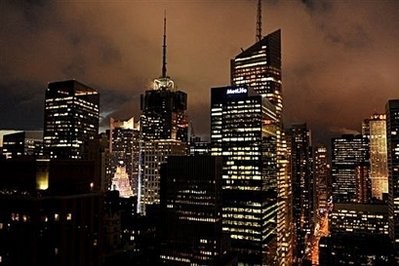 The New York City skyline is seen in June 2009
"The index is well above its second-quarter average of negative 9.5 and suggests that the manufacturing expansion that began last month is accelerating," Sweet said.
In a surprisingly robust report last week, the Federal Reserve said that manufacturing led a 0.5 percent increase in US industrial production in July, the first rise in industrial output in nine months.
"This month the Empire State index continues to point the way higher with a large rise and with an outsized improvement in the employment sub-index," said Robert Brusca of FAO Economics.
In the Empire State survey, respondents were decidedly more upbeat about conditions in the coming six months.
The future general business conditions index leapt 14 points to 48.2, and the capital expenditures index advanced 16 points to 18.1, its highest level in over a year.
Current employment conditions rose for the sixth consecutive month but remained negative. The index for the number of employees rose 13 points to negative 7.5, the highest level in 10 months.
Analysts, however noted, that manufacturers lacked pricing power amid sluggish demand in the recession-mired economy.
Federal Reserve policymakers, concluding a two-day monetary policy meeting last week, maintained the central bank's near-zero base interest rate while saying that "economic activity is leveling out" amid the steep downturn.
Amid worries that the burgeoning recovery could be stamped out by job insecurity and still-tight credit conditions, the Fed and the US Treasury extended a multibillion-dollar credit program for consumers and businesses into mid-2010.
"The markets for asset-backed securities backed by consumer and business loans and for commercial mortgage-backed securities are still impaired and seem likely to remain so for some time," they said in extending the Term Asset-Backed Securities Loan Facility (TALF) program that was set to expire on December 31.
Consumers, whose spending drives about two-thirds of US economic growth, have snapped their wallets shut in the face of rising unemployment, falling home values and uncertainty about when the economy will recover from the worst recession since the Great Depression.
A survey published Monday showed that a majority of Americans believe that a 787-billion-dollar stimulus package passed six months ago with support from President Barack Obama has had no effect or even made the US economy worse.
A USAToday/Gallup poll found that 41 percent of Americans think the spending has made the US economy better, but 57 percent believe it has either made no difference or worsened the recession.
Over three-quarters of those questioned -- 78 percent -- said they were either "very worried" or "somewhat worried" that money from the economic stimulus was being "wasted."