The U.S. Marine Corps wrapped up its role Saturday in Iraq, handing over duties to the Army and signaling the beginning of an accelerated withdrawal of American troops as the U.S. turns its focus away from the waning Iraqi war to a growing one in Afghanistan.
The Marines were set to formally hand control of Sunni-dominated Anbar, Iraq's largest province, to the Army during a ceremony at a base in Ramadi — where some of the fiercest fighting of the war took place.
If all goes as planned, the last remaining Marines will be followed out by tens of thousands of soldiers in the coming months. President Barack Obama has ordered all but 50,000 troops out of the country by Aug. 31, 2010, with most to leave after the March 7 parliamentary election.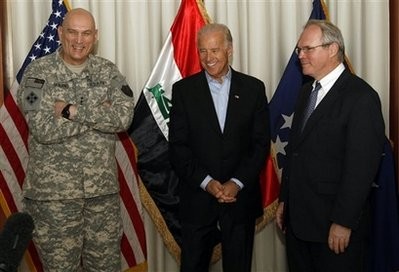 U.S. Vice President Joseph Biden, center, poses for a photo with Gen. Raymond Odierno, the top U.S. commander in Iraq, left, U.S. Ambassador to Iraq Christopher Hill, right, in Baghdad, Iraq, Friday, Jan. 22, 2010.
The remaining troops will leave by the end of 2011 under a U.S.-Iraqi security pact.
But concerns about the success of the election — and perhaps the loss of hard won security gains that the Marines helped cement — are on the rise because of a growing political dispute that could see more than 500 candidates blacklisted because of suspected ties to Saddam Hussein's regime.
Vice President Joe Biden was in the Iraqi capital Saturday delivering a message of Washington's concerns over fears that the banning of candidates could stall reconciliation efforts between Shiites and Sunnis. The U.S. sees reconciliation as essential to Iraq's stability.
The changeover at Ramadi, west of Baghdad, leaves the U.S. Army's 1st Armored Division with responsibility over both Baghdad and Anbar, the vast desert province that stretches from western Baghdad to the borders of Syria, Jordan and Saudi Arabia.
The province was once the heart of the deadly Sunni insurgency that erupted after the U.S.-led invasion in 2003. In the battles for control of the cities of Fallujah and Ramadi, the Marines saw some of the most brutal and deadliest fighting of the war.
Violence began dropping off in the province in late 2006 when Sunni fighters — known as Awakening Councils — turned against al-Qaida and sided with the Marines to fight the insurgency.
As many as 25,000 Marines were in Iraq at the peak, mostly in Anbar province. The few thousand who remain — except for U.S. Embassy guards and advisers in Baghdad — are expected to ship out in a matter of weeks.