A lone elephant charged out of the brush as an American family was hiking near Mount Kenya and trampled to death a mother and the 1-year-old daughter she held in her arms, officials said Wednesday.
Four adults and the baby were walking with an unarmed guide just outside Mount Kenya National Park on Monday morning when the elephant charged, said Kenya Wildlife Service official Michael Kipkeu.
The family was hiking on a nature trail about 1 mile (2 kilometers) from the Castle Forest Lodge, where the family was vacationing, said the owner, Melia van Laar.
"The elephant emerged from the bush at full speed without any warning," van Laar said. "Everybody ran away, but the lady, burdened by the weight of the baby, perhaps, or in panic, was not able to run fast enough."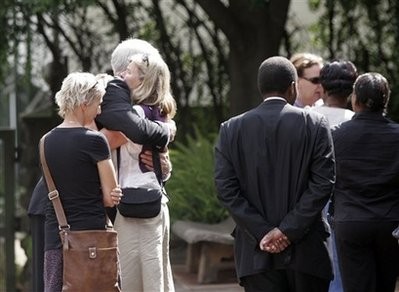 Friends and colleagues wait outside Lee Funeral Home in Nairobi, Kenya to attend funeral services Wednesday, Jan. 6, 2010 for US teacher Sharon Brown, 39, and her daughter Margaux, 1.
Officials identified the woman as Sharon Brown, 39, and said her daughter's name was Margaux. Brown, originally from New York, and her husband are listed as faculty members at the International School of Kenya. Friends and colleagues at the American-curriculum K-12 school held a memorial service Wednesday.
Walking tours of Kenya's many national parks are common, though hikers are advised to have an armed guard with them if the park is known to have elephants, said Kentice Tikolo, a spokeswoman for the Kenya Wildlife Service.
"It was a lone elephant and lone elephants can be quite dangerous," Tikolo said. "It probably felt quite threatened."
Tikolo said deaths by charging elephants are rare in Kenya, though they happen about once a year.
Because the Castle Forest Lodge lies just outside the boundary of Mount Kenya National Park, the family was walking with a hotel guide, who is not allowed to carry a gun, said Tikolo. The national park is about 180 miles (300 kilometers) north of the capital, Nairobi.
Brown was a 1989 graduate of Miller Place High School on eastern Long Island, New York, and was a graduate of Binghamton State University with a degree in psychology, said her father, John Laurie. She later received a masters in library.
She joined the Peace Corps in 1999 and spent two years in Bangladesh before being transferred after the Sept. 11 attacks. Later, she worked for the Peace Corps in Uganda.
"She was an excellent student and beautiful person," Laurie said. "She was loved by everybody and loved to travel extensively."
After leaving the Peace Corps, Brown returned to New York briefly before working for a year as a librarian at Antioch University New England in Keene, New Hampshire, her father said.
She went to the International School of Kenya about four years ago, where she worked as a librarian and teacher; her husband taught there as well.
Laurie, whose wife died in 1999, said he visited his daughter's home on the northern end of the Serengeti last February and March. "We had a wonderful time," he said. "Her daughter had been born the previous Dec. 14, so we got to spend time with her."