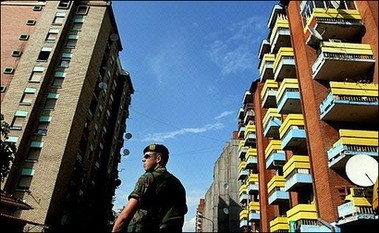 A French peacekeeper of the NATO force in Kosovo patrols in the northern part of Mitrovica populated by Serbs in May 2007.
Without Russia's support for an independent Kosovo in the United Nations, Washington is more open to the idea of a simple US-EU "coordinated" proclamation of independence for the breakaway Serbian province.

A senior State Department official said Kosovo leaders meeting Monday with top US officials were given assurances "the way ahead is not blocked," despite Russia's veto Friday of a UN Security Council resolution that would have set Kosovo's 90 percent Albanian population on the road to independence.
After 120 days of "intensive engagement" on Kosovo the United States and European Union agreed should be held with Serbia and its ally Russia, "the status of Kosovo will be settled," said the official who wished to remain anonymous.
He refused to anticipate what would happen after 120 days of talks, but Kosovo leader Fatmir Sejdiu told AFP in an interview Monday that he favored a "coordinated," not unilateral independence proclamation.
"For us it is critical that the process is coordinated and moves ahead in close cooperation with the international community, the US and the European Union in the first place," Sejdiu said after meeting with top US officials including Secretary of State Condoleezza Rice.
"Of course, a formal annoucement of independence will happen in due course, but in cooperation and in close partnership with the countries which are supportive of the Kosovo independence," the leader added.
The senior US official welcomed Sejdiu's words: "What they'll do, they will do it in coordination with US and Europe, not on their own. That's an important statement."
After pressing for a long time for Kosovo's independence, the United States for more than a month has been threatening to sidestep the United Nations in its quest to free the Albanian-majority province from Serbia.
Now it feels its own support and that of the European Union will grant Kosovo enough legitimacy to declare its indepencence unilaterally, aides to Rice said.
However, the US government has agreed to delay the moment of truth 120 days to satisfy the Europeans, who remain deeply divided on Kosovo independence, fearing the precedent it would create in their midst.
Bearing that in mind, State Department spokesman Sean McCormack said before Rice met Monday with the Kosovo delegation that she would "underline the fact that nobody gains by trying to short circuit the diplomatic process that is underway."
He was alluding to the threat Kosovo leaders made last week through provincial media of proclaiming unilateral independence on November 28, neighboring Albania's Independence Day holiday.
Kosovo has been run by the United Nations since 1999, after a NATO bombing campaign to Serbia.
After Russia's veto of their resolution on Kosovo, the United States and EU decided to switch their independence-seeking efforts from the United Nations to the so-called Contact Group -- Britain, France, Germany, Italy, Russia and the United States.
The group will meet Tuesday in Vienna, but the senior US official said his government has lost all hope of convincing Russia to come aboard the independence wagon.