The US State Department is considering a rare face-to-face meeting with a North Korean envoy visiting the United States, raising hopes of progress in stalled nuclear talks.
State Department spokesman Ian Kelly late Friday said no decision had been taken on who would meet Ri Gun, the senior North Korean nuclear negotiator who has reportedly arrived in New York for a visit of several days.
But Kelly said a meeting between Ri and the US special envoy for North Korean disarmament talks, Sung Kim, had not been ruled out.
"I wouldn't exclude that. I don't have anything to announce about that, but I certainly wouldn't exclude it," he said.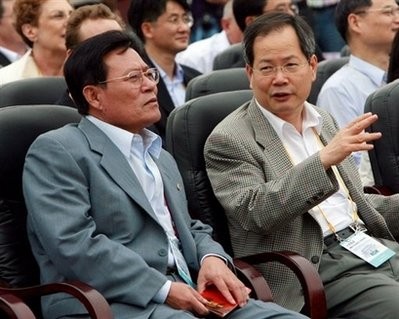 This 2007 file photo shows SKorean envoy Chun Yung-Woo chatting with NKorean delegate Ri Gun (left) during a cultural event in Shenyang, China
South Korea's Yonhap news agency
reported that Ri arrived in New York on Friday.
He was also expected to visit San Diego on Monday for closed-door informal talks on the nuclear standoff, the event's director Susan Shirk told AFP.
Kelly indicated it had not yet been decided which US official would attend that meeting.
Ri's rare visit has fueled speculation that North Korea is preparing to return to six-party talks about its nuclear weapons program.
On Monday, Kurt Campbell, the US assistant secretary of state for East Asia, said the United States was ready to meet one-on-one with North Korea but only if it leads "rapidly" to full-fledged six-nation denuclearization talks.
North Korea in April declared the six-nation forum and its agreements to be null and void after the United Nations condemned its long-range rocket launch. The communist state later also tested an atom bomb.
But on October 6, North Korean leader Kim Jong-Il told Chinese envoys the North was willing to return to six-way talks, but insisted it first negotiate directly with the United States to repair "hostile relations".
Campbell, who has recently held talks in Beijing that the United States "would be prepared for, in the right circumstances at some point, some initial interaction" with North Korea "that would lead rapidly to a six-party framework."
North Korea has long sought to meet exclusively with the United States and gain recognition as a nuclear weapons state.
The six-nation talks have involved China, Japan, the two Koreas, Russia and the United States.
The reports of possible diplomatic overtures came after top US officials fired some tough words at Pyongyang.
On Thursday, US Defense Secretary Robert Gates, visiting South Korea, labelled North Korea a grave threat to international peace and promised to continue protecting Washington's allies in the region under a nuclear umbrella.
Meanwhile, Secretary of State Hillary Clinton warned from Washington Wednesday that the United States will never have "normal, sanctions-free relations" with a nuclear-armed North Korea and demanded Pyongyang's full atomic disarmament.