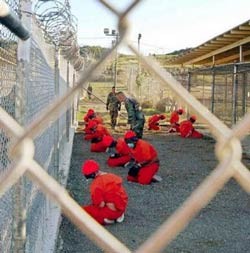 Detainees inside US prison in Guantanamo Bay, Cuba. UN asked US to close the prison
United States must come clean over its secret "war on terror" detention facilities, stop sending prisoners to countries where they might be tortured and "take firm measures to eradicate all forms of torture" by its own personnel, a United Nations anti-torture panel said.
"The state party should cease to detain persons in secret detention facilities, inside its territory, in territories under its jurisdiction and in facilities under its de facto effective control," the UN Committee on Torture said.
"The state party should acknowledge that detaining persons in secret facilities constitutes, per se, an act of torture or cruel, inhuman or degrading treatment or punishment, depending on its exact nature, purpose and severity."

Source: AFP