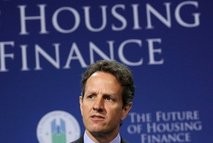 Timothy Geithner
WASHINGTON (AFP) – US Treasury Secretary Timothy Geithner said Tuesday that the government must bolster the embattled American housing sector to avoid more damaging recessions in the future.
"Without such support, the risk is that future recessions could be more severe because the financial system would not have the capital to support mortgage lending on an adequate scale," he said.
"House price declines could be more acute, with even greater damage to financial wealth and economic security," Geithner said at a conference in Washington on the future of housing finance in the United States.
A key issue is how to reform troubled mortgage giants Fannie Mae and Freddie Mac, which were taken over by the federal government at the height of the financial crisis in 2008 as their loan losses mounted.
Their portfolios of mortgage-backed securities snowballed to more than 1.6 trillion dollars at their peak without the financial resources to cover potential losses.
Since the takeover, the government has injected more than 140 billion dollars into the two companies, which own or guarantee more than half the 11 trillion dollar US residential debt market.
Geithner said fixing the damaged US housing finance system was "one of the most consequential and complicated economic policy problems we face as a country."
He made it clear that the government "will not support" returning Fannie and Freddie to their previous role in which they fought to take market share from private competitors while enjoying the privilege of government support.
The Obama administration has vowed to deliver to lawmakers a comprehensive housing finance reform proposal by January 2011, beyond November elections.
Obama and his Democratic allies have already come under fierce attack from Republicans for not including Fannie Mae and Freddie Mac in a sweeping financial overall that was signed into law recently.
Reforming Fannie and Freddie is political charged as the housing sector struggles to emerge from the mortgage crisis that plunged the economy into a recession in 2007.
The two firms have underpinned the US housing market for 40 years, and -- supporters argue -- have made housing affordable for millions of poorer Americans.
Critics say they represent unwarranted government interference in the housing market.
Geithner recalled that the financial crisis saw a "full retreat" by private financial institutions from many forms of mortgage and consumer lending.
This "provides a compelling illustration of why private markets, left to their own devices, find it hard to resolve financial crises," he said.
Geithner said the government's role in providing stability to the housing finance system, both in times of prosperity and during downturns, was key to economic stability.
"This question is really about whether the government -- in order to make sure that Americans can borrow at reasonable interest rates to buy a house even in a downturn -- has to provide a form of guarantee or insurance against losses," he said.
Some governments make insurance or guarantees explicit while many leave them implicit or hidden, Geithner said, adding that the jury was still out on what the extent of US government involvement should be.
"It's safe to say there's no clear consensus yet on how best to design a new system," he said.