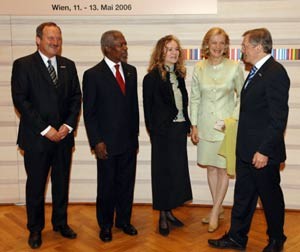 EU leaders receive UN Secretary General Kofi Annan (2nd, L) and his wife Nane to the Hofburg Palace in Vienna on May 12 (AFP Photo)
The United States must talk directly to Iran about its nuclear programme because Tehran will not negotiate seriously if Washington is not involved, UN Secretary General Kofi Annan said Friday.
"As long as the Iranians have a sense that they are negotiating with the Europeans . . . and what they discuss with them will have to be discussed with the Americans and then come back again to them, I am not sure they will put everything on the table," Annan told reporters in Vienna.
Meanwhile Iran's president said at the meeting with more than 1,000 cheering Muslim students in the Indonesian capital Thursday that he was ready to hold talks over his country's nuclear program, but he warned that efforts to force Tehran to the negotiating table with threats could backfire.
"The big powers ... have a lot of nuclear weapons in their warehouse," Ahmadinejad said during a visit to the world's largest Muslim majority nation amid a deepening international standoff over Tehran's nuclear program and suspicions it is seeking atomic weapons.
"We want to use technology for peace and the welfare of the Muslim people around the world," he told students who gathered at Islamic University on Jakarta's southern outskirts. "But they want to use it to invade other countries. This is the difference between us and them."

AFP- SGGP