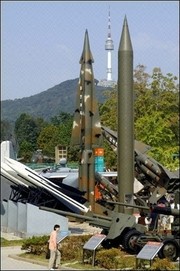 The rockets are showed at a museum in DPRK (AFP Photo)
The US chief negotiator on Democratic People's Republic of Korea (DPRK) said Thursday that he wanted to speed up the disarmament process before he headed on a surprise visit to the communist state.
Speaking to a small group of reporters at his hotel in Tokyo, Christopher Hill did not specify where he was going, saying only that he had to take a flight.
"We have to catch up on some of the timelines because we've really fallen behind this spring," Hill said.
"I think we have to do everything that we have to do to accelerate the timelines."
The Japanese government later confirmed that Hill headed to DPRK, the first such visit by the US top negotiator in nearly five years.
DPRK agreed in February to shut down its nuclear reactor in return for badly needed fuel aid. But it had refused to comply until it received more than 20 million dollars in assets frozen at US instigation.
Hill said earlier this week that the money was back in DPRK's hands and that UN inspectors would head next Tuesday to the communist state to verify the shutting down of the Yongbyon reactor.
Japan on Thursday welcomed US chief negotiator Christopher Hill's visit to DPRK and said he is expected to discuss Pyongyang's promises to shut down a nuclear reactor.
"Dialogue is natural. Without dialogue the problem will not be resolved," said Prime Minister Shinzo Abe, who is known for his hard line on DPRK.
"I think that visiting DPRK is part of that effort," he told reporters.
Japan has refused to fund a six-nation deal with DPRK, saying it will not assist Pyongyang due to a long-running row over its past kidnappings of Japanese civilians.