Police evicted dozens of anti-Wall Street protesters Sunday from downtown Portland, Oregon, making over 50 arrests in the latest city to act against the encampments, officials said.
A police statement said Portland Police "has cleared both Chapman and Lownsdale Square parks."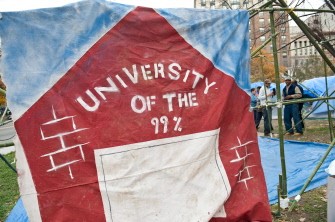 Protesters erect a University of the 99% tent at the Occupy DC camp at McPherson Square in Washington on November 13, 2011.
In the operation, "more than 50 arrests were made of people who either wanted to be arrested or refused to leave Chapman Square," the statement added.
"No officers or persons arrested were injured during the park clearance. No pepper spray or less lethal munitions were used during this operation."
Late Saturday, several thousand people gathered in the city in support of about 200 protesters who refused to depart the camp.
Mayor Sam Adams said officials would be "very patient" in removing the demonstrators.
"Parks are going to be closed to the public, effective when the police bureau feels it can be done in a peaceful and successful way," he told journalists ahead of the eviction.
The site in Portland was among several in US cities where demonstrators were denouncing corporate greed since the movement started in New York in September.
Police also evicted protesters camping in the US cities of Denver, Colorado, and Salt Lake City, Utah, on Saturday.
The mayor of Oakland, California -- where violence has flared in recent weeks -- urged campers "to leave voluntarily" while police said they should disperse immediately.