Top US diplomat John Kerry met Russia's President Vladimir Putin on Thursday to offer him closer military cooperation in the hope of salvaging the stalled Syria peace process.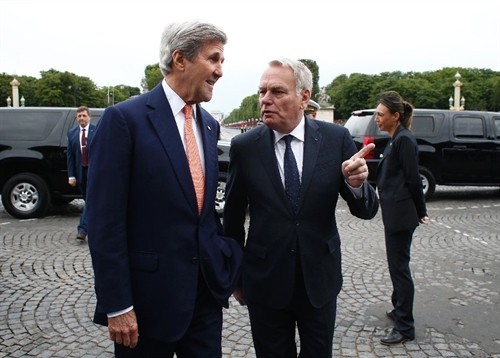 US Secretary of State John Kerry (left) flew to Moscow after attending the Bastille Day parade on the Champs Elysees in Paris, on Thursday. — AFP Photo
The new proposal, as revealed in a leaked document, was an offer for the US military to work with Russia against the Al-Nusra Front and Islamic State (IS) jihadist groups.
In exchange, Russia would have to convince or strongarm its ally Bashar al-Assad into grounding his own planes and halting attacks on civilians and moderate opposition groups.
The meeting broke up at 1.00 am on Friday after three hours of closed-door talks.
"The secretary expressed concern about repeated violations of the cessation of hostilities by the Syrian regime," US spokesman John Kirby told reporters.
"The two also discussed the need to increase pressure on terrorist groups like Daesh and the al-Qaeda affiliate in Syria, Jabhat al Nusra."
But "diplomatic efforts could not continue indefinitely" in the absence of concrete, near-term steps, Kirby reported Kerry as saying.
Speaking before the Kremlin meeting, Putin gave little away.
"I would like to note our mutual effort in the settlement of conflicts that we deem important to resolve," Putin said, conveying his regards to President Barack Obama.
"My last conversation with President Obama has convinced me that we are indeed striving not only to establish a process of cooperation but also to achieve important results."
Not there yet
Kerry said Obama and he believed the US and Russia were in a position to make "an enormous difference" in the course of events not just in Syria but also in Ukraine.
Later on Friday, after a night at a Moscow hotel, Kerry was to "explore initiatives in more detail" with his immediate counterpart Foreign Minister Sergei Lavrov.
Moscow and Washington, and the 22-nation contact group they co-chair, have called for a nationwide ceasefire and Geneva-based talks on a "political transition".
A landmark partial ceasefire they brokered in February -- which did not include IS or Al-Nusra -- has since all but collapsed amid continued heavy fighting.
UN Syria envoy Staffan de Mistura urged Moscow and Washington to push for a resumption of the talks next month.
De Mistura said the talks "have a target date of August" and need to be "a credible beginning of a roadmap towards a political transition".