The United States on Wednesday gave the green light to companies to invest in Myanmar including in oil and gas, in its broadest and most controversial easing yet of sanctions on the former pariah.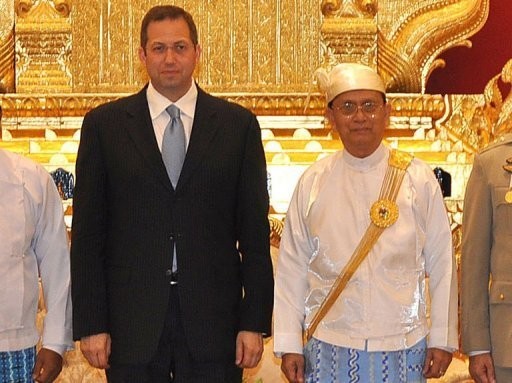 US coordinator for policy on Myanmar, Derek Mitchell (L) poses for a photograph with Myanmar President Thein Sein at the President residence in Naypyidaw.
Hours after the arrival in Myanmar of the first US ambassador in two decades, President Barack Obama announced the latest gesture in recognition of reforms in a nation dominated by the military since 1962.
"Today, the United States is easing restrictions to allow US companies to responsibly do business in Burma," Obama said in a statement, referring to Myanmar by its former name.
"President Thein Sein, Aung San Suu Kyi and the people of Burma continue to make significant progress along the path to democracy, and the government has continued to make important economic and political reforms."
US companies have been pressing the Obama administration to end restrictions on investment, fearing they will lose out to European and Asian competitors that already enjoy access to the potentially lucrative economy.
But Obama's move marks a rare divergence from Suu Kyi, Myanmar's Nobel Peace Prize-winning opposition leader, who has warned foreign firms not to form partnerships with the state-owned Myanmar Oil and Gas Enterprise, or MOGE.
Suu Kyi, who spent years under house arrest but won a seat in parliament since the reforms, said on a recent tour of Europe that MOGE needed first to sign up to international standards such as the IMF code on transparency.
Under the new rules, US companies will have the right to enter into business with MOGE but must notify the State Department within 60 days.
All US companies that invest more than $500,000 in Myanmar will be required to file reports to the State Department each year that show their consideration for human rights, workers' rights and the environment.
The administration's decision came under fire from human rights activists, who until recently had largely supported the US engagement with Myanmar.
Human Rights Watch said that the reporting requirements were not enough and that the United States should have insisted on reforms in governance and human rights before opening up investment.
"By allowing deals with Burma's state-owned oil company, the US looks like it caved to industry pressure and undercut Aung San Suu Kyi and others in Burma who are promoting government accountability," said Arvind Ganesan, the group's director for business and human rights.
Aung Din, a former political prisoner who heads the US Campaign for Burma pressure group, said that Obama was rewarding institutions behind the serious human rights violations in a country torn by decades of conflict.
"I am sure Obama will be appreciated by the Burmese generals, cronies and US corporations, but not by the people of Burma," he said.
Obama voiced concern about the role of the military and said that the United States would continue to ban investment in companies owned by the defense ministry or armed groups.
"This order is a clear message to Burmese government and military officials: those individuals who continue to engage in abusive, corrupt, or destabilizing behavior going forward will not reap the rewards of reform," he said.
Obama also issued sanctions on Myanmar's Directorate of Defense Industries over its agreement in 2008 with North Korea on missile development.
The relationship between Myanmar and North Korea has long been murky. South Korean President Lee Myung-Bak said after a visit to Myanmar in May that he won a promise to refrain from military cooperation with the North.
Myanmar's parliament is considering a new investment law and a series of other measures aimed at liberalizing the economy, which was left in tatters by decades of mismanagement, cronyism and isolation under the junta.
Derek Mitchell, a veteran US policymaker on Asia, arrived Wednesday as the first US ambassador to Myanmar since the then junta's violent crackdown on pro-democracy protests in 1988.
Obama made the announcement as Secretary of State Hillary Clinton, who paid a historic visit to Myanmar in December, landed in Cambodia for talks with Southeast Asian nations.
Two other senior US officials, Robert Hormats and Francisco Sanchez, plan to hold talks this weekend in Myanmar on stepping up trade.