The United States is not ready to begin winding down its economic stimulus measures, Treasury Secretary Timothy Geithner said Thursday, despite concerns over soaring US deficits.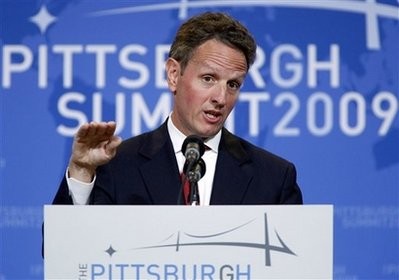 Treasury Secretary Timothy Geithner briefs reporters before the start of the the G-20 summit, Thursday, Sept. 24, 2009 in Pittsburgh.
Geithner told reporters at the G20 summit of leading world economies that the United States would leave "programs in place until we are very confident we have a financial system that can provide the credit recovery needs."
Governments have poured trillions of dollars into stimulus measures since last year's global economic collapse in order to preserve jobs and kickstart the recovery that just now seems to be edging into view.
But rapidly rising deficits in many of the countries concerned have raised fears of future instability and some countries, notably on continental Europe, have been calling for "exit strategies" to end the extraordinary policies.
Geithner said that Washington was committed to "taking steps to bring down our fiscal deficits to a sustainable level", but only once the recovery began to take hold in the United States.