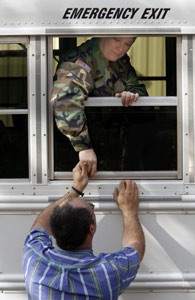 Jon Johnson (bottom) holds his wife Dinah's hand while the bus leaves after a deployment ceremony for approximately 180 soldiers to Iraq (AFP Photo)
A bipartisan panel studying US strategic options in Iraq is expected to urge an aggressive regional diplomatic initiative that includes direct talks with Iran and Syria but sets no timetable for a military withdrawal, The New York Times reported Monday.
Citing unnamed officials familiar with the plan, the newspaper said that while the Iraq Study Group was likely to accept the diplomatic option, it also expected a potentially divisive debate about timetables for beginning a US withdrawal.
Several officials said announcing a major withdrawal was the only way to persuade the government of Iraqi Prime Minister Nuri Kamal al-Maliki to focus on creating an effective Iraqi military force, the report said.
Members of the group, including some Democrats, are discussing proposals that call for a declaration that within a specified period of time -- perhaps as short as a year -- a significant number of US troops should be withdrawn, regardless of whether or not the Iraqi government's forces are declared ready to defend the country, The Times said.
The paper said that ideas under consideration include embedding far more US training teams into Iraqi military units in a last-ditch improvement effort.
While the numbers are still approximate, phased withdrawal of combat troops over the next year would leave 70,000 to 80,000 US troops in the country, compared with around 150,000 now, according to The Times.
"It's not at all clear that we can reach consensus on the military questions," the paper quotes one member of the panel as saying.
The draft report, according to those who have seen it, seems to link American withdrawal to the performance of the Iraqi military, The Times said.