US President George W Bush signed Wednesday a landmark bill normalizing trade ties with Vietnam, praising the "amazing changes" under the country's shift toward a market economy.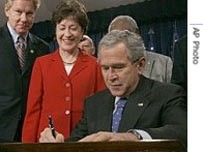 President George Bush signs the bill, Dec. 20,
Passed by the US Congress this month, the measure dovetails with Vietnam's scheduled entry into the World Trade Organization (WTO) on January 11. Both reward Vietnam's two-decade effort to open up its economy, now among the fastest-growing in the world.
The law establishing permanent normal trade relations will broaden US-Vietnam commerce and help boost Vietnamese living standards, Bush said at a White House signing ceremony.
"Vietnam is demonstrating a strong commitment to economic reform," he said.
Full trade relations with Vietnam - a market of more than 82 million people - mark another step toward reconciliation with a country the United States left in defeat in 1975.
"With his signature today, the president ushered in a new era of economic opportunity and cooperation between the United States and Vietnam," US Trade Representative Susan Schwab said.
Permanent normal trade relations are needed for the US to offer a country the lowest possible tariffs and to benefit mutually from membership in WTO, the rule-making body of world trade.
In essence, the bill exempts Vietnam from the annual human rights and immigration-related reviews required for communist countries to get trade benefits.
US-Vietnamese trade grew to nearly US$8 billion in 2005, a fivefold increase since 2001. The two countries normalized political relations in 1995 under former US president Bill Clinton and signed a bilateral trade agreement in 2001.
In the only sour note, US lawmakers failed last month in their first attempt to pass the Vietnam trade measure, just before Bush headed to an Asia Pacific Economic Cooperation summit in Vietnam.
Vietnam was part of a wider trade bill that was among the last votes by the Republican-led US legislature before a newly elected centre-left Democratic majority takes over Congress in January.
The legislation also gives temporary preferential trade to the Andean nations of Peru, Colombia, Ecuador and Bolivia, and gives import tax breaks for textiles from Africa and Haiti.
The provisions on trade with the Andean countries, Africa and Haiti drew limited opposition from US organized labor and industry groups, notably in the embattled US textile industry.