UNITED NATIONS, March 31, 2011 (AFP) - Moamer Kadhafi wants a former Marxist priest and Nicaraguan foreign minister to represent him at the United Nations, but the United States said Wednesday he will have to get a stronger document than a tourist visa.
Miguel D'Escoto's nomination as Libya's UN representative was also called into question after Libya's foreign minister, who wrote the official accreditation letter to the UN, himself defected from the Kadhafi camp on Wednesday.
D'Escoto was named "by a former foreign minister, who no longer is the foreign minister of Libya, so I think the first question is whether he has been appointed in any legitimate fashion," said Susan Rice, the US ambassador to the United Nations.
"So his nomination is already in question," she told reporters at the UN headquarters in New York. "I am not sure what he is doing here."
D'Escoto was born in the United States, but Rice said she understood he renounced his US citizenship several years ago. As a minister in Nicaragua's Marxist Sandinista government, D'Escoto was a strong critic of the United States.
"He came most recently to the United States on a tourist visa. A tourist visa does not allow you to represent any country, Nicaragua, Libya or any other, at the United Nations," she added.
D'Escoto was due to give a press conference at the United Nations on Thursday, but UN officials said it had been cancelled.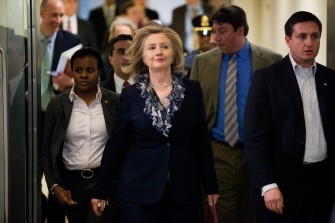 AFP - U.S. Secretary of State Hillary Clinton (C) leaves a briefing for Senators in the U.S. Capitol on March 30, 2011 in Washington, DC. Secretary Clinton, along with Secretary of Defense Robert Gates, National Intelligence Director James Clapper, Chairman of the Joint Chiefs of Staff Admiral Mike Mullen, and Deputy Treasury Secretary Neal Wolin, briefed members of the Senate on the U.S. military intervention in Libya.
In remarks broadcast in Managua, D'Escoto however told the Telesur television channel that his first mission as a Kadhafi representative would be to work towards an immediate "ceasefire" between both sides, and called the current situation "intolerable."
Rice said that if he wants to be permanent representative of any country he would have to leave the United States and get a G1 visa for diplomats. She warned that "if he purports to be, or acts like, the representative of a foreign government on a tourist visa, he will soon find that his visa status will be reviewed."
Nicaraguan President Daniel Ortega's administration announced on Tuesday that D'Escoto would become the Libyan representative to the UN.
"Kadhafi uses mercenaries as soldiers, now he is using them as diplomats," Abdulrahman Shalgham, the Libyan envoy to the UN who has turned against Kadhafi said of the move.
Shalgham, a former foreign minister, insisted that he and former deputy ambassador Ibrahim Dabbashi would continue working out of the Libyan mission in New York.
The pair have been disowned by Kadhafi and now work with the opposition rebel transitional government. Their UN credentials have been withdrawn.
Kadhafi's Foreign Minister Mussa Kussa sent a letter to the United Nations formally announcing D'Escoto's appointment. The minister defected and flew to London on Wednesday, according to British authorities.
Libya made the decision because Kadhafi's nominee, Ali Triki, a former foreign minister, had been unable to obtain a US visa to get to New York.