MOSCOW (AFP) – US and Russian officials have reached agreement on the broad principles of a new nuclear disarmament deal to replace the 1991 START accord, Interfax quoted a Russian source as saying Friday.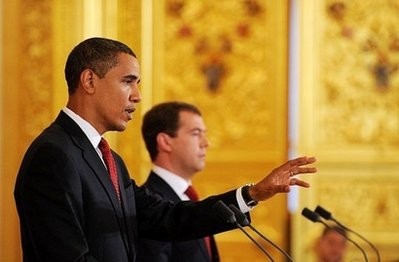 US President Barack Obama speaks during a press briefing with Russian President Dmitry Medvedev in Moscow in July (AFP file)
"The positions of the new agreement on strategic weapons have been agreed (by negotiators in Geneva) and an official statement about this could be made soon," the news agency quoted a diplomatic source as saying.
The source added that "a large volume" of technical work was still required to complete the successor to the 1991 Strategic Arms Reduction Treaty and this work "could even take several weeks".
No further details were immediately available.
US President Barack Obama and his Russian counterpart Dmitry Medvedev are to meet on the sidelines of the Copenhagen climate summit on Friday, a US official has said, in a bid to hasten a new accord after START expired on December 5.