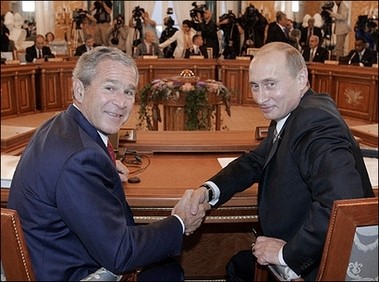 US President George W. Bush (L) shakes hands with his Russian counterpart Vladimir Putin prior to the start of a working session of G8 leaders in St. Petersburg in July 2006 (AFP Photo)
The United States and Russia announced a pact that removes one of the biggest hurdles facing Moscow's decade-long struggle to join the World Trade Organization.
The bilateral deal on market access should be signed at a regional summit in Viet Nam next week, both governments said, in a step that should see Russia emulate China in prising open its fast-growing economy.
US corporate leaders hailed the agreement, with caveats, but it could yet face complications in Washington as Democrats prepare to return to power in Congress.
"We have an agreement in principle and are finalizing the details," US Trade Representative Susan Schwab said in a statement, calling the deal "an important step in Russia attaining membership in the WTO".
Schwab and Russian Economic Development Minister German Gref said they hoped to sign the agreement next week in Hanoi, on the margins of a summit of Asia-Pacific Economic Cooperation (APEC) countries.
The deal lifts a major irritant as presidents George W. Bush and Vladimir Putin prepare to meet in the Vietnamese capital on November 18-19. Bush will also stop in Moscow on his way to Asia.
"Both sides have agreed on all principal conditions for this agreement," Gref's ministry affirmed in a statement on the deal that capped an often stormy series of negotiations stretching back to 1994.
Russia is the only major world economy that is not yet a part of the WTO, and it needs the bilateral support of the United States before it can accede.
With the United States on board, Russia will now need to clinch multilateral agreement with all 149 WTO members in Geneva, and may also need to overcome a bitter diplomatic standoff with WTO member Georgia.
The main outstanding question in the bilateral talks revolved around US meat imports to Russia. US negotiators also pressed hard on intellectual property protections and access to Russian financial services markets.
But Moscow had often complained that the deal was being held up by political objections in Washington, after stinging attacks by Vice President Dick Cheney this year on Putin's political and energy policies.
And the Democrats' triumphant return to control of the US Congress in elections Tuesday could complicate matters as Russia's record on political freedoms, human rights and the environment comes under scrutiny.
US business groups urged Congress to move swiftly on granting Russia "Permanent Normal Trade Relations" (PNTR) status and to abolish Cold War-era limits imposed on commerce with the former communist country.
Congress cannot block Russia's WTO accession but without PNTR, US and Russian businesses will not enjoy full access to each other's economies even after Moscow joins the global body.
Democrat Max Baucus, who is in line to chair the US Senate's powerful finance committee with responsibility for trade matters, welcomed the deal.
"At the same time, Russia must take additional steps to earn a welcome into the WTO," he stressed, highlighting "unacceptable levels of piracy and counterfeiting" and an "unscientific" Russian ban on US beef.
"This is an historic step," said Frank Vargo, vice president of the National Association of Manufacturers, while echoing other corporate leaders in demanding Russia get tough against ripoff versions of US goods.
Jim Owens, chief executive of heavy-equipment group Caterpillar Inc., said: "We applaud the completion of the bilateral agreement and urge Congress to act quickly to approve PNTR for Russia.
"WTO membership for Russia will make it easier for US companies to enter the Russian market and will ensure that those companies enjoy important protections for their valuable intellectual property," he said