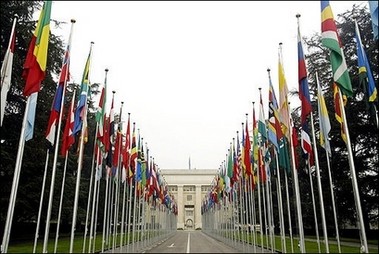 Entrance of The WTO headquarters in Geneva (AFP Photo)
US and Russian trade negotiators are meeting in Geneva this week racing against the clock in an effort to clear Moscow's long-running bid to join the WTO, a US official said.
The two nations held talks last week in Washington that failed to yield a breakthrough towards their aim to wrap up their bilateral talks by the end of October.
"There are talks ongoing in Geneva. We are moving forward," said Sean Spicer, a spokesman for US Trade Representative Susan Schwab.
The talks in the home city of the World Trade Organisation come after Russian energy giant Gazprom stunned foreign investors Monday by saying it would develop the world's biggest natural-gas field on its own.
Gazprom froze US and western European companies out of the lucrative development of the massive Shtokman gas field, and said it would reorient the project towards supplying customers in Europe rather than the United States.
Spicer declined to say if the decision would hurt Russia's 12-year bid to join the WTO, saying the Geneva talks were focussed on broader issues such as intellectual property rights (IPR).
But he added: "The US government has been consistently supportive of US energy investments in Russia, and of an open energy environment in Russia."
US concerns over IPR abuses in Russia have been a key stumbling block in the talks, in additional to agricultural tariffs and foreign access to Russia's financial services market.
A Russian Internet site called allofmp3.com, which sells Western pop music at knock-down prices, has emerged as a major irritant, with Schwab accusing Moscow of allowing the site to operate with impunity.
Spicer refused to be drawn on the details of the latest discussions, after Schwab and Russian Economy Minister German Gref launched a high-stakes but doomed effort to clinch a WTO deal in July.
Both nations then set themselves the goal of reaching a deal by the end of October, so that Russia could win the agreement of the last major trading partner that has yet to endorse its WTO bid.
But neither Schwab nor Gref has taken part in the latest negotiations here and in Geneva. The two ministers have sent their chief negotiators on Russia's WTO drive, Dorothy Dwoskin and Maxim Medvedkov.
Asked if the deadline still stood, Spicer said: "We still share that goal."
Source: AFP