SINGAPORE (AFP) – Russia and the United States said Sunday after talks between their leaders that they expect to agree on the text of a new missile cuts treaty by the end of the year.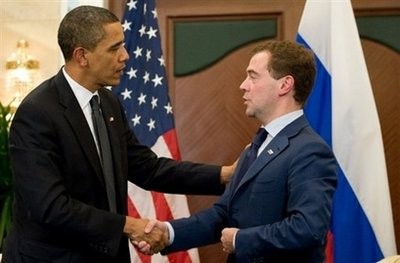 US President Barack Obama shakes hands with Russian President Dmitry Medvedev during meetings in Singapore. (AFP photo)
"I expect that we can have a final text of the agreement by December," Russian President Dmitry Medvedev said, referring to a successor to the Cold War-era START agreement.
Medvedev said there were "technical" issues that need to be resolved.
White House advisor Mike McFaul said that while an agreement was expected in December, it could not be ratified by the legislatures in both countries by December 5 when START elapses.
"What I do know for sure is that we will not have a ratified treaty in place by December 5. It still has to go through the US Senate and the Russian Duma," he told reporters.
"What is for sure is that we do need a bridging agreement."