US President Barack Obama and his Russian counterpart, Dmitry Medvedev, held an impromptu summit in Lisbon in an effort to build confidence between the two nations, a White House official announced.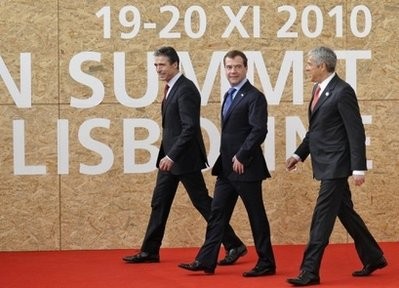 (From left) NATO Secretary General Anders Fogh Rasmussen, Russia's President Dmitry Medvedev and Portugal's Prime Minister Jose Socrates Carvalho Pinto de Sousa arrive for a NATO-Russian Council on November 20, in Lisbon.
"They were able to go aside into a room by themselves and talk for 15 to 20 minutes," White House spokesman Ben Rhodes told reporters aboard Air Force One before it landed in Washington late Saturday. "It was informal, it wasn't planned."
Only a translator accompanied the two leaders at their meeting on the sidelines of a NATO summit, US officials said.
NATO and Russia agreed earlier Saturday to jointly examine a missile shield to defend Europe and boost the flow of supplies to the Afghan war, burying a period of tensions between the former Cold War foes.
The day before, the Western military alliance had agreed to set up an anti-ballistic missile defence system to protect Europe's populations against rogue rocket attacks and invite Russia to cooperate.
The two sides agreed to study how this cooperation would work, but Medvedev warned Russia would have to be treated as an equal partner if it is to participate.
Rhodes said Obama and Medvedev had developed what he called "a very strong rapport."
"They like each other. They like to see each other," the spokesman said. "They like to get along and consult about things."
According to administration officials, the meeting was initiated by Obama, who later described it as "very cordial."
Obama also talked to Medvedev about his earlier meeting with President Mikheil Saakashvili of Georgia.
Georgia fought a five-day war with Russia in August 2008 when Russian troops poured into the country after fighting broke out between Georgian and separatist forces in South Ossetia.
One of the officials quoted Obama as saying that the meeting with Medvedev was aimed at reducing "misunderstandings that can lead to unintended consequences."
The two leaders also discussed the new START nuclear arms treaty with Russia and the chances for its early ratification by the US Senate.
"They had a very cordial conversation about it," an administration official said, adding that Medvedev expressed confidence "in the president getting it done."
The treaty -- signed by Medvedev and Obama at an elaborate ceremony in Prague in April -- restricts each nation to a maximum of 1,550 deployed warheads, a cut of about 30 percent from a limit set in 2002.
The agreement, a top Obama foreign policy initiative, replaces a previous accord that lapsed in December 2009 and also requires ratification by Russia's lower house, the Duma.
Senate Republicans have said they need to be sure that the US nuclear arsenal will be modernized and that the treaty will not hamper US missile defense efforts -- but some acknowledged privately that they did not want to hand Obama a major diplomatic victory before the elections.
Earlier, the Russian leader warned that his country would withhold its own ratification of the START Treaty until it passes in Washington.
"I hope that US legislators will demonstrate a responsible approach," Medvedev told a news conference in Lisbon. "It would be a shame" if the treaty was not ratified, he said.
Despite Republican opposition, the White House expressed confidence the treaty could be ratified before the end of the year, when the old, Democratic-controlled Congress is still is session.
"Our position continues to be that this can get done in the lame-duck session," Rhodes said.
Medvedev's participation in Lisbon marked the first meeting between a Russian president and the 28-nation alliance since his country's 2008 war with Georgia, a pro-Western former Soviet state that now aspires to join NATO.